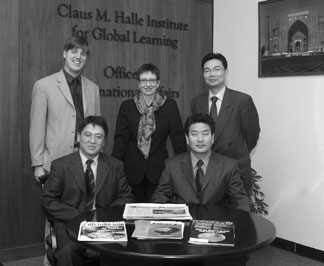 On Feb. 3, Emory hosted a delegation
from Busan Metropolitan City, one of Korea's free economic zones, to explore opportunities
for cooperation in medical research and services. Pictured are (clockwise from top left) Jonathon Price, executive assistant to the
consul general of Korea; Holli Semetko, vice provost for international affairs; Byeong-soo Bae, consul for economic development
at Atlanta's consul general of Korea; Steve Tang, director general for Busan's investment promotion bureau; and Yun-il Kim, deputy director of investment promotion.
Photo by Kay Hinton.