Spring is coming and Maestro Robert Spano and eight Emory Music concerts are here to help ring it in.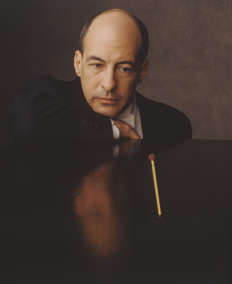 Robert Spano, Emory Distinguished Artist in Residence. Photo by Andrew Eccles.
Spano, Atlanta Symphony Orchestra music director, returns to Emory for his second year as Distinguished Artist in Residence. This year's residency includes a free performance of John Cage's "Lecture on Nothing" on March 25 at 8 p.m.
Spano will also participate in two Creativity Conversations this month, the first with Salman Rushdie on March 14 at noon in Cannon Chapel and the second with poet Rita Dove and composer Alvin Singleton on March 21 at 6 p.m. in the Oxford Road Building.
The Emory University Symphony Orchestra presents its first spring concert on March 3 at 8 p.m. The concert will include the world premiere of Richard Prior's "Symphony No. 3" and the winners of the 2010-2011 EUSO Concerto Competition, Kevin May and Vijay Balakrishnan, in a clarinet duo.
The Atlanta Youth Wind Symphony under the direction of Scott Stewart performs March 14 at 8 p.m. They will present a program of diverse music including Aaron Copland's "An Outdoor Overture," Michael Gandolfi's "Vientos y Tangos," and the world premiere of "Ignition!" by Chicago-area composer Todd Stalter, composed for conductor Scott Stewart and the AYWS.
Enjoy a mid-day break with the Vega String Quartet at the Emory Chamber Music Society of Atlanta Noontime Series, March 18 at noon in the Carlos Museum. The concert will include the music of Mozart and Beethoven.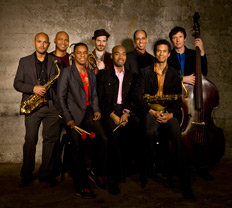 SFJAZZ Collective. Photo © SFJAZZ
The Candler Concert Series continues with SFJAZZ Collective on March 18 at 8 p.m. This all-star octet brings the latest in contemporary jazz with a tour inspired by the music of Stevie Wonder. Tickets: $36; Discount Category Members $30; Emory students $10.
The Atlanta Sacred Chorale, renowned for their exquisite artistry and transcendent sound, hosts the Emory Community Choral Festival March 19 at 8 p.m. in the Carlos Museum featuring other local choral groups.
The Emory Chamber Music Society of Atlanta brings focus to young artists this month. Its Family Series features "Atlanta's Young Artists" on March 20 at 4 p.m. at the Carlos Museum.
The Emory Tango Ensemble and Tango Orchestra Club Atlanta with special guest Osvaldo Barrios, bandoneón, will present "Argentine Tango Music" on March 23 at 8 p.m. Directed by Kristin Wendland, the music will be traditional and new Argentine tango.
Quartet-in-residence Vega String Quartet and William Ransom, piano, close out March with "The Best of Beethoven," part of the Emory Chamber Music Society of Atlanta Emerson Series, on March 26 at 8 p.m. The program highlights the best of Beethoven's works of the Opus 50s, including the "Sonata Op. 53 (Waldstein)," "Sonata Op. 57 (Appassionata)" and the "String Quartet Op. 59, No. 2."  Tickets: $20; Discount Category Members $15; Emory faculty, staff, Friends of Music and all students, free.
Unless otherwise noted, all concerts are free and open to the public and take place in the Emerson Concert Hall of the Schwartz Center for Performing Arts. For tickets and information contact the Arts and Emory Box Office at 404.727.5050 or arts.emory.edu.