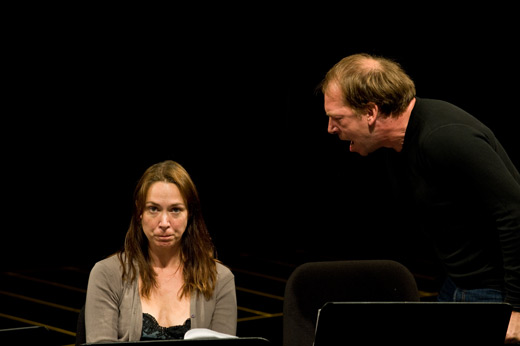 Elizabeth Marvel and Bill Camp in "Theater of War." Photo By Howard Korn
By Jessica Cook
One in five military service members who have returned from Iraq and Afghanistan experiences post-traumatic stress disorder (PTSD) or major depression—and only slightly more than half seek treatment, according to a 2008 Rand Corporation study.
This consequence of modern war is also found in ancient Greek stories dating back 2,500 years and more. From Homer to Sophocles, two upcoming Emory events use classical Greek literature to facilitate discussion about the profound effects of war on soldiers and their families.
'War is war' lecture and 'Odysseus' documentary
The Carlos Museum will host a lecture, film and discussion on this consequence of war for returning veterans on Sunday, Feb. 27, from 1:30 to 5 p.m. The Jonathan Shay and Charles Berkowitz lecture and film screening is free and open to the public.
The lecture, "War is war is war is war is war," by clinical psychiatrist Shay will focus on his ongoing work with veterans.
Shay won a 2007 MacArthur Foundation "genius grant" for his groundbreaking work using Homer's "Iliad" and "The Odyssey" to treat combat trauma and other warfare effects on veterans and their families.
He is the author of "Achilles in Vietnam: Combat Trauma and the Undoing of Character" (1994) and "Odysseus in America: Combat Trauma and the Trials of Homecoming" (2002), the latter of which focuses on the veteran's experience upon returning from war.
Following the lecture and a short reception, filmmaker Berkowitz will introduce the screening of his new documentary based on Shay's 2002 book.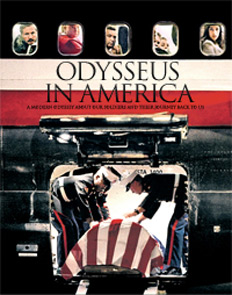 "Odysseus in America" film poster
The film "Odysseus in America" documents the struggle of contemporary veterans to reintegrate into society after the traumas of war. Weaving together voices of soldiers from Korea to Vietnam, Iraq and Afghanistan, with excerpts from Homer's "Odyssey," Berkowitz strikes a parallel between ancient and contemporary times.
Following the 85-minute film, Shay and Berkowitz will be available for questions and discussion.
The Emory Coca-Cola Artists-in-Residency Program is providing support for this program. The media sponsor is WABE 90.1 FM.
'Theater of War' theatrical readings and discussion
Theater Emory is partnering with Theater of War Productions to present a free, public presentation of "Theater of War" on Saturday, March 26, 7 p.m. at Cannon Chapel.
The Theater of War project uses dramatic readings of Sophocles' "Ajax" and "Philoctetes" to spark town hall discussions about the challenges faced by service members, veterans and their families.
"Ajax" tells the story of a Trojan War hero who is driven to madness.
 "Philoctetes" is about a warrior who is abandoned by his soldiers. Sophocles' plays forge a common vocabulary for openly discussing the impact of war on individuals, families and communities.
Theater Emory Artistic Director John Ammerman says the partnership gives Theater Emory an important role in combating PTSD and "the opportunity to assist our veterans, enlisted personnel, and their families by using theater as a catalyst for discussion on this major issue."
"Theater of War" is translated and moderated by Bryan Doerries and produced by Phyllis Kaufman. 
Ammerman will direct and participate in the readings, which will also feature Bruce Evers, Blake Covington, Tim McDonough and Lisa Paulsen.
A town hall discussion with military and health care panelists will follow the readings.
The event is free and open to the public, but seating is limited.
The Emory presentation of "Theater of War" is supported by the Rollins School of Public Health, the Center for Ethics, Carlos Museum, Creativity: Art & Innovation, Center for Creativity & the Arts and Theater Emory.  "Theater of War" is made possible by the generous support of the Stavros Niarchos Foundation in collaboration with the United Service Organizations. Learn more at www.theater-of-war.com.