MIKHAIL EPSTEIN HOME PAGE
Mikhail N. Epstein (Epshtein), Russian-American literary scholar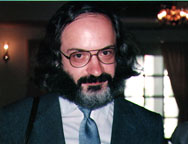 ---
Associate Professor, Department of Russian and East Asian Languages and Cultures (REALC) , 121 Trimble Hall, Emory University, Atlanta, GA 30322
tel. (404) 727-2594; fax (404)727-2903; e-mail: russmne@emory.edu
---
RESEARCH INTERESTS: The theory of literature; the history of Russian literature (especially Pushkin, Gogol, Dostoevsky and 20th century poetry); contemporary philosophy and religion; postmodern trends in Western and Russian cultures; new methods and interdisciplinary approaches in the humanities.
---

PUBLICATIONS:

14 books and monographs
and more than 300 articles and essays, translated into 10 languages.
In library catalogs, look under the name
MIKHAIL EPSHTEIN
BOOKS AND MONOGRAPHS
(follow links to summaries and annotations in English).
In English:
1.Russian Postmodernism: New Perspectives on Post-Soviet Culture (with Alexander Genis and Slobodanka Vladiv-Glover). New York, Oxford: Berghahn Books, 1999, 528 pp.
You can order this book directly on-line Russian Postmodernism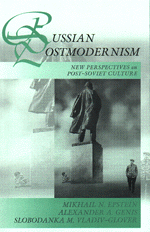 2. After the Future: The Paradoxes of Postmodernism and Contemporary Russian Culture, transl. and with Introduction by Anesa Miller-Pogacar, Amherst: The University of Massachusetts Press, 1995, 394 pp.
You can order this book directly on-line After the Future

The review of this book by Karen Rice McDowell (Univ. of Virginia) AATSEEL Book Review on the Internet Summer 1997
---
3. Relativistic Patterns in Totalitarian Thinking: An Inquiry into the Language of Soviet Ideology. Kennan Institute for Advanced Russian Studies, Occasional Paper, # 243. Washington: The Woodrow Wilson International Center for Scholars, 1991, 94 pp.
---
In Russian:
4. Novoe v klassike. Derzhavin, Pushkin, Blok v sovremennom vospriiatii (The Classics Renovated: Derzhavin, Pushkin, and Blok in Contemporary Perception). Moscow: Znanie, l982, 40 pp.
---
5. Paradoksy novizny. O literaturnom razvitii XIX-XX vekov (The Paradoxes of Innovation: On the Development of Literature in the l9th and 20th Centuries). Moscow: Sovetskii Pisatel', l988, 4l6 pp.
---
6. 'Priroda, mir, tainik vselennoi. . .' Sistema peizazhnykh obrazov v russkoi poezii ('Nature, the World, the Mystery of the Universe...': The System of Landscape Images in Russian Poetry). Moscow: Vysshaia Shkola, l990, 304 pp.
---
7.Ottsovstvo. Esse (Fatherhood. An Essay). Tenafly (New Jersey): Hermitage Publishers, 1992, 160 pp.

You can order this book directly on-lineOttsovstvo
---
8. Novoe sektantstvo: tipy religiozno-filosofskikh umonastroenii v Rossii (New Sectarianism: The Varieties of Religious-Philosophical Consciousness in Russia). Holyoke (Massachusetts): New England Publishing Co., 1993, 179 pp.; 2nd edition, reprint, Moscow: Labirint, 1994, 181 pp.
---
9. Velikaia Sov'. Filosofsko-mifologicheskii ocherk (Great Soviet Land. A Philosophical-Mythological Essay). New York: Word/Slovo, 1994, 175 pp.
---
10. Vera i obraz. Religioznoe bessoznatel'noe v russkoi kul'ture XX veka (Faith and Image: The Religious Unconscious in Twentieth Century Russian Culture), Tenafly (New Jersey): Hermitage Publishers, 1994, 269 pp.

You can order this book directly on-line Vera i obraz
---
11. Na granitsakh kul'tur. Rossiiskoe - amerikanskoe - sovetskoe (On the Borders of Cultures: Russian - American - Soviet). New York: Slovo/Word Publishers, 1995, 344 pp.
---
12.Bog detalei. Narodnaia dusha i chastnaia zhizn' v Rossii na iskhode imperii (The God of Details: People's Soul and Private Life at the Twilight of the Russian Empire)). New York: Slovo/Word Publishers, 1997, 248 pp.

2nd Edition, revised and expanded, Moscow, LIA R. Elinina, 1998, 240 pp.
---
In German:
13.Tagebuch fur Olga. Chronik einer Vaterschaft (translation of Ottsovstvo [Fatherhood]). Aus dem Russischen von Otto Markus. Munich: Roitman Verlag, 1990, 256 pp.
---
In Serbian-Croatian:
14. Esej (Essay). [Theory of Essay as a Genre]. S ruskog prevela Radmila Mechanin. Narodna knjiga - Alfa, Biblioteka Pojmovnik, Knjiga br. 24, Beograd, 1997, 172 pp.
15. Vera i lik. (translation of Vera i obraz. (Faith and Image)). S ruskog prevela Radmila Mechanin. Novi Sad: Matitse srpske, 1998, 358 pp.
16. Postmodernizam [Postmodernizm]. Prevela s ruskog Radmila Mechanin. Beograd: Zepter Book World, 1998, 160 pp.
---
ARTICLES and ESSAYS
---
---
M. EPSTEIN'S WORKS ON THE WEB:
In English:
HYPER in 20th Century Culture: The Dialectics of Transition From Modernism to Postmodernism Postmodern Culture, vol. 6, No. 2, January 1996

On the Place of Postmodernism in Postmodernity paper for the conference After Postmodernism, Chicago University, November 1997

The Phoenix of Philosophy: On the Meaning and Significance of Contemporary Russian Thought Symposion. A Journal of Russian Thought, 1996

On Hyper-Authorship. Some Speculations on the Mystery of Araki Yasusada.

Mikhail Epstein is the author of the following electronic sites (opened on July 1, 1995):

INTELNET (intellectual network) - a virtual community devoted to the advancement of interdisciplinary ideas in the humanities.

IMPROVISATIONS. Communicative generation of interdisciplinary ideas.

Russian Philosophy on the Intelnet

Symposion. A Journal of Russian Thought

Society for the Study of Russian Religious Thought

Overview of Russian philosophy
---

Your comments and suggestions are highly appreciated
---
Accesses to this page: Oct. 21, 1995 - Apr. 20, 1998 -- 6596
Since April 21, 1998