Mikhail Epstein, Alexander Genis, Slobodanka Vladiv-Glover
Russian Postmodernism :
New Perspectives on Post-Soviet Culture.
New York, Oxford: Berghahn Books, 1999, 528 pp.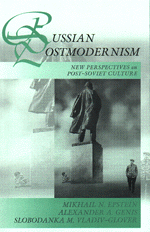 CATALOGUE DESCRIPTION
The last ten years were decisive for Russia, not only in the political sphere, but also culturally as this period saw the rise and crystallization of Russian postmodernism. The essays, manifestos, and articles gathered here investigate various manifestations of this crucial cultural trend. Exploring Russian fiction, poetry, art and spirituality, they provide a point of departure and a valuable guide to an area of contemporary literary-cultural studies which is currently insufficiently represented in English-language scholarship. "Who's Who in Russian Postmodernism" as an appendix introduces many authors who have never before appeared in a reference work of this kind and renders this book essential reading for those interested in the latest trends in Russian intellectual life.

"This formidable collective effort far exceeds the modest confines of its title. A reliable guide to post-Soiet Russian culture, it also encompasses Russian culture as a whole, taking stock of its entire past, and in the process embraces the entire tradition of Western thought... all this is discussed not with resignation, but with an exuberant sense of being a part of these exciting developments and often with a view to an intriguing future. [Upon reading] this book, one is tempted to ask if Oswald Spengler wasn't right after all when he predicted that Russian culture would one day take the place of Western culture."
Victor Terras, Professor Emeritus of Comparative Literature and Slavic Languages, Brown University.
---
Mikhail N. Epstein was one of the main proponents of postmodernism in Russia and the founder and Chair of the Laboratory of Modern Culture, Experimental Center of Creativity, Moscow. The author of twelve books, he now lives in the United States and teaches at Emory University.

Alexander A. Genis is a Russian-American writer, literary critic, broadcaster, and the author of eight books and numerous essays covering broad subjects from Classical and Modern Russian Literary Studies to Contemporary Cultural studies.

Slobodanka M. Vladiv-Glover is the author of two monographs. She has widely published in Russian and English on Russian culture and teaches in the German and Slavic studies department at Monash University.
---
Table of Contents

Introduction by Thomas Epstein

Part 1. The Making of Russian Postmodernism

1. The Dialectics of Hyper: From Modernism to Postmodernism. Mikhail Epstein

2. The 1960s and the Rediscovery of the Other in Russian Culture: Andrei Bitov. Slobodanka Vladiv-Glover

3. Perestroika as a Shift in Literary Paradigm. Alexander Genis

Part II. Manifestos of Russian Postmodernism

Literary Manifestos, by Mikhail Epstein

4. Theses on Metarealism and Conceptualism (1983)

5. On Olga Sedakova and Lev Rubinshtein (1984)

6. What is Metarealism? Facts and Hypotheses (1986)

7. What is Metabole? On the Third Trope (1986)

8. Like a Corpse in the Desert: Dehumanization in the New Moscow Poetry (1987)

9. A Catalogue of New Poetries (1987)

Cultural Manifestos, by Mikhail Epstein

10. Essayism: An Essay on the Essay (1982)

11. The Ecology of Thinking (1982)

12. Minimal Religion (1982)

13. The Age of Universalism (1983)

14. The Paradox of Acceleration (1985)

Part III. Socialist Realism and Postmodernism

15. Archaic Post-Modernism: the Aesthetics of Andrei Sinyavsky. Alexander Genis

16. Postmodernism and Sots-Realism: From Sinyavsky to Sorokin. Alexander Genis

17. Borders and Metamorphoses: Viktor Pelevin in the Context of Post-Soviet Literature. Alexander Genis

Part IY. Conceptualism

18.The New Model of Discourse in post-Soviet Russian Fiction: Liudmila Petrushevskaia and Tatiana Tolstaia. Slobodanka Vladiv-Glover

19. Heterogeneity and Russian Post-Avant-Garde: The Excremental Poetics of Vladimir Sorokin. Slobodanka Vladiv-Glover

20. Emptiness as a Technique : Word and Image in Ilya Kabakov. Mikhail Epstein

Part V. Postmodernism and Spirituality

21. Post-Atheism: From Apophatic Theology to "Minimal Religion." Mikhail Epstein

22. Onions and Cabbages: Paradigms of Contemporary Culture. Alexander Genis

23. The Charms of Entropy and New Sentimentality: The Myth of Venedikt Erofeev. Mikhail Epstein

CONCLUSION: On the Place of Postmodernism in Postmodernity. Mikhail Epstein

APPENDIX: Who's Who in Russian Postmodernism. Mikhail Epstein and Alexander Genis

Notes on Contributors
Select Bibliography
Index of Names
Index of Subjects

Now you can order this book directly on-line Russian Postmodernism

Cloth $ 55.00

Paper $ 18.50

Telephone orders: 1-800-540-8663

Back to Mikhail Epstein Home Page
---
The number of accesses to this page since March 20, 1998