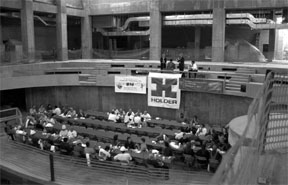 The funding campaign for the Donna & Marvin Schwartz Center for the Performing Arts—whose Oct. 24 "topping-off" ceremony is shown above—has been provisionally awarded a $750,000 grant by The Kresge Foundation. Emory must raise the remainder of its capital campaign goal—$2,835,165—by December 2002 to become eligible for the grant.

Emory College Senior Associate Dean Rosemary Magee noted, "It is an honor to receive a Kresge Challenge because it is viewed as the 'seal of approval' for capital campaigns nearing their completion."

The Schwartz Center, located at North Decatur and Clifton roads, is scheduled for completion next fall and will house performance, rehearsal and studio space for music, theater and dance departments and programs. The facility is highlighted by an 825-seat concert hall, a 135-seat laboratory theater and a 135-seat experimental dance studio. In addition, it will house classroom space for creative writing and other programs, as well as a vault for film studies.

The Kresge Foundation awarded 97 grants between January and June 2001, totaling $71,717,000. Gifts from The Kresge Foundation are directed at projects involving construction or renovation of facilities and the purchase of major capital equipment or real estate.

The Emory community can take part in the Kresge Challenge campaign through donations and Emory employee payroll deductions, including the underwriting of seats or named spaces. To participate, the public may call 404-727-0082 or send e-mail to kmellis@emory.edu. —Sally Corbett. (Photo by Ann Borden.)