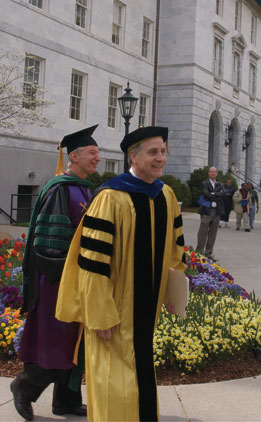 Jim Wagner, wearing his doctoral robe from Johns Hopkins University,
steps onto the Quadrangle, ready for his Inauguration.
Photo by University Photography.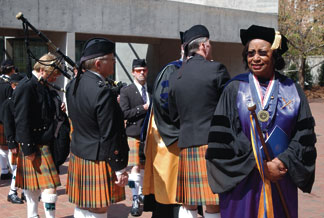 Delores Aldridge, Grace T. Hamilton Professor of Sociology, waits
with the bagpipers whose music would signify the start of the ceremony.
Photo by Kay Hinton.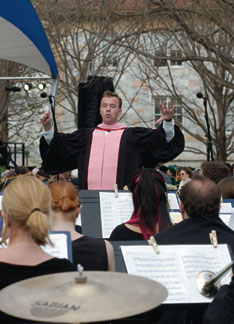 Scott Stewart conducts the Emory Wind Ensemble, which performed
"Zodiacal Memory, Fanfare for the Emory President" among other
pieces during inaugural interludes.
Photo by Jon Rou.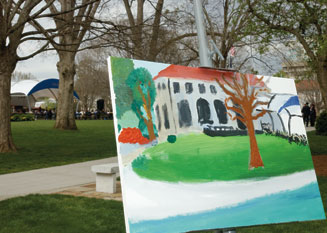 A painting by Emory students Joel Patchwell and Andrew Howard
commemorates the Wagner Inauguration
Photo by Jon Rou.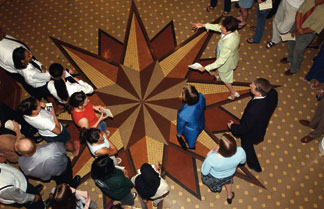 Oxford Dean Dana Greene leads the Wagners through the student center
for the reception following the Oxford heritage celebration.
Photo by Kay Hinton.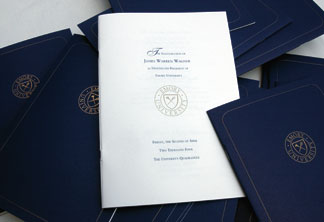 5,000 programs were printed for the Wagner Inauguration.
Photo by Jon Rou.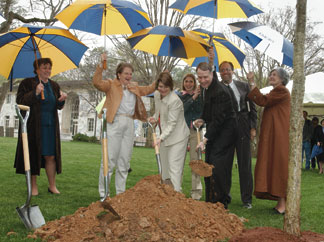 Debbie and Jim Wagner dig in at the Friends of Emory Forest (FOEF) Inaugural tree planting, and they are joined by (left-to-right) FOEF President Nancy Seideman, Executive Assistant to the President Marion Dearing, Christine Wagner, University Secretary Gary Hauk and Assistant University Secretary Tricia Stultz.
Photo by Jon Rou.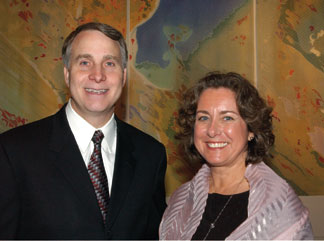 Wagner poses with Mary Edna Fraser, whose silk batik of Lullwater
(seen behind them) now will move to the president's house.
Photo by Kay Hinton.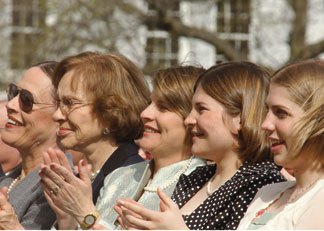 Former First Lady Rosalynn Carter, Debbie,
Kimberly and Christine Wagner enjoy the ceremony
Photo by University Photography.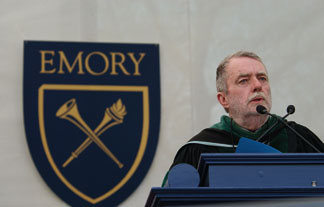 John Stone, professor of medicine emeritus, recites
"The Spirits of This Lawn," a poem he composed for the Inauguration.
Photo by Ann Borden.