Chanting Tibetan monks set the stage for the standing-room-only April 29 reception celebrating Bobby Paul, dean of Emory College of Arts and Sciences.
As he steps down as head of Emory College, alumni and friends honored Paul with the Bobby Paul "Dean's Achievement" Scholarship, to recognize and further his pioneering work to bring the most talented students to Emory College, regardless of family background or circumstance. The scholarship will provide an annual merit-based award to a rising College sophomore or junior beginning in May 2011.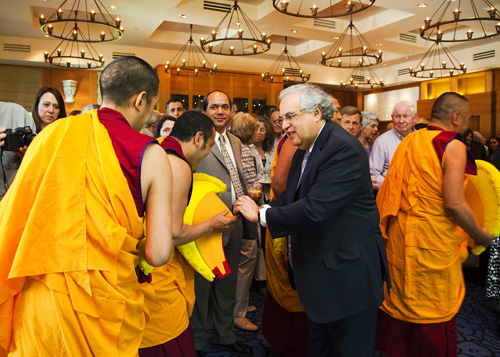 A letter from His Holiness the XIV Dalai Lama, read by President Jim Wagner, honored the connections Paul — a scholar of the Tibetan Buddhist tradition — has forged through the Emory-Tibet Partnership, which he established in 1998 to bring together the best of Western and Tibetan Buddhist intellectual traditions. Paul's involvement with the Emory-Tibet Partnership will continue in his new role as chair of the executive committee.
The College faculty joined together to honor Paul with the naming of The Robert A. Paul Emory-Tibet Science Initiative, matching the Dalai Lama's gift of $50,000 to this Emory-Tibet Partnership initiative.
The faculty matching gift is part of MyEmory, the employee and retiree component of Emory's $1.6 billion fundraising campaign.
Paul, Charles Howard Candler Professor of Anthropology and Interdisciplinary Studies, joined Emory in 1977 as associate professor in the Graduate Institute of Liberal Arts, which he later directed. Paul established Emory's Anthropology Department and Psychoanalytic Studies Program and served as dean of the Graduate School before taking the helm of Emory College in 2003, where he led an era of growth in the liberal arts.
"He leaves a College poised to lead among liberal arts colleges in major research universities," Provost Earl Lewis wrote in a letter to faculty. At the reception, Lewis joined colleagues in thanking Paul for his decade of dedicated service to the College and his contributions to the liberal arts.
After a national search, Robin Forman, a mathematics scholar and dean of undergraduates at Rice University, has been chosen to serve as the next dean of Emory College.
Forman will start July 1.