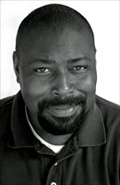 Author Randall Kenan will give the 2010 Phillis Wheatley Reading and a colloquium on Monday, Oct. 18.
The colloquium will be at 2 p.m., in N301 Callaway Center and the reading will be at 6:30 p.m. in the Jones Room of the Woodruff Library. Both events are free and open to the public.
Kenan, who teaches at the University of North Carolina-Chapel Hill, recently edited and wrote an introduction to a new collection of work by author James Baldwin, "The Cross of Redemption: Uncollected Writings." He is the author of a young adult biography of Baldwin; the novel "A Visitation of Spirits" and the story collection "Let the Dead Bury Their Dead."
The North Carolina native's work also include the text for Norman Mauskoff's book of photographs, "A Time Not Here:The Mississippi Delta;" a book of essays and interviews,"Walking on Water: Black American Lives at the Turn of the Twenty-First Century;" and the nonfiction work, "The Fire This Time."
Kenan's visit is co-sponsored by the Creative Writing Program, the African American Studies Department, and Studies in Sexualities.