The creative carvings at the Oct. 26 Pumpkin Celebration ranged from an underwater scene, to an i-Pumpkin, to Lord Dooley in relief. The Emory Farmers Market event featured Georgia-grown pumpkins.

Winners of the Pumpkin Carving Contest are: 
• First Prize: Dean Roman, staff
• Second Prize: Brooke Thyng, student
• Third Prize: Ashley Williams, student
• Honorable Mention: Bill Cassels, staff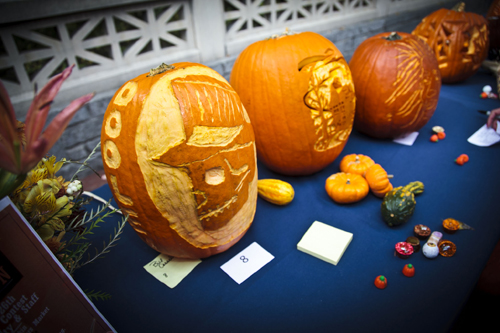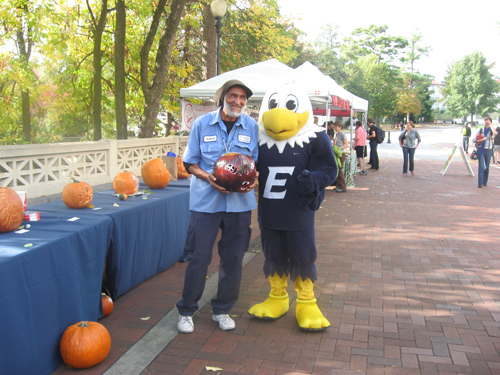 Dean Roman with his first-placed pumpkin.
More Halloween happenings
Emory Dining continues the seasonal celebration with a Dining at Dobbs Halloween Party Thursday, Oct. 28. The food and fun begins at 4 p.m. Come in costume, and cast your vote in the Employee Costume Contest.
Know the meat you eat
Savor the next Farmers Market event, "Good Meat: Know the Meat You Eat," on Tuesday, Nov. 2 with guest chef Deborah Krasner.
Krasner is the award-winning author of seven books, including "Good Meat: The Complete Guide to Sourcing and Cooking Sustainable Meat," which shows concerned consumers how to find, order and prepare sustainably raised meat.
The book connects responsible agriculture, delicious food, good health, the environment, and American dinner tables, providing detailed guidance to enable people to become responsible meat eaters.
On Nov. 2, Krasner will conduct cooking demonstrations with recipe selections from "Good Meat," from 12:30-1:30 p.m. on the Cox Hall Bridge.
Later that day, Krasner will participate in a panel discussion on sustainable meat with local chefs, representatives from local farms, Emory Dining representatives and faculty.
The panel discussion, from 5:30-7 p.m. in the Emory Center for Ethics Room 102, is free and open to the public.