Each year, through its Unsung Heroine Awards, the Center for Women at Emory shines a spotlight on women whose good deeds and works bring credit to Emory and their local communities.
"The Unsung Heroine Awards provide a unique opportunity to celebrate women across the University who have helped other women," says CWE Director Dona Yarbrough. "Hearing about the lives and accomplishments of the winners at the awards reception is always truly inspiring."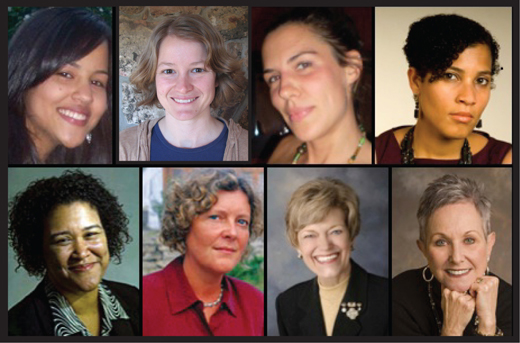 The 2011 Unsung Heroines are (from top left): Massiel Ramos, Joelle Rosser, Bridget Spelke, Aline Rafi, Leslie Harris, Claire Sterk, Zoe Hicks, Ali P. Crown.

Bridget Spelke and Joelle Rosser, graduate student honorees

At a dinner following a panel discussion on homelessness and health care, as their impressed yet dubious classmates looked on, medical students Bridget Spelke and Joelle Rosser began to outline a plan to open a student-run medical clinic for homeless women. Within a few months, they'd secured a grant and approached the Open Door Community, which already operated a medical clinic for homeless men, to allow them to provide services to women on a different day. To get their clinic volunteer staff up to speed, Spelke and Rosser organized a day of training for first-year medical students, schooling them in the particulars of sexually transmitted infections, urinalysis, domestic violence, ultrasonography, pelvic exams and more. Helped in this effort by volunteer physicians and older medical students, the two have convinced nearly all of Emory's obstetrics and gynecology faculty to volunteer at the clinic, which has been operational since the fall.
Massiel Ramos, undergraduate student honoree

Emory College senior and Gates Millennium Scholar Massiel Ramos keeps up a brisk schedule. She finds time to volunteer for the Sexual Assault Consortium, as an orientation captain, and as a mentor with the MORE (Multicultural Outreach and Resources at Emory) program, among many other endeavors. After she was no longer eligible for work-study funds in her job at the Center for Women, "Massiel continued to work—more hours than most paid students—for more than two years at the Center for Women," said one of her nominators, Roslyn Sledge, the center's former office coordinator. In 2009 Ramos and her fellow students redoubled their efforts to raise funds from the annual performance of "The Vagina Monologues" to donate the proceeds to a local domestic violence program and to the Tiana Angelique Notice Foundation, named in honor of CWE Associate Director Sasha Smith's sister, who was fatally stabbed by her estranged boyfriend earlier that year, on Valentine's Day.
Aline Jesus Rafi, staff honoree

Many who come to know Aline Jesus Rafi have been traumatized by an act of sexual violence to themselves or one of their friends. In the midst of this ordeal, they find "trained, skilled, committed and compassionate" care in the form of Rafi, in the words of colleague Virginia Plummer. In addition to her counseling work, Rafi trains students and staff how to reach out to, support and advocate for women—and sometimes men—"who so desperately need our attention and help during a dark and terrifying time in their lives," said Plummer. Rafi's work at Emory builds on a long history of work in rape crisis centers and in a wide array of volunteer activities focusing on women. Nine colleagues vouched for her nomination, including her supervisor, Michael Huey. "In her sexual prevention work, she has taken on the important but emotionally charged issues of primary prevention and bystander intervention," he wrote in his nomination letter. "If an Unsung Heroine is a woman 'who has demonstrated extraordinary dedication to issues that affect women at Emory or in the larger community,' Aline Jesus Rafi clearly is such a woman."
Leslie Harris, faculty honoree

Women make up nearly 75 percent of the more than 1,500 Emory community members who have participated in the Transforming Community Project, better known as TCP. This innovate initiative, co-founded and co-led by Leslie Harris, a professor of history, has changed the tenor of campus dialogue around contentious issues surrounding race, gender and the conflict in the Middle East. "TCP began for Leslie as a way to approach a rather dire situation in which two women stood on either side of a race discrimination charge in the fall of 2003," noted Jody Usher, who co-directed TCP with Harris. "By proposing a method of bringing diverse parties from all walks of life at Emory together for dialogue around a common curriculum, Leslie moved hundreds of individuals to a better understanding of Emory's racial history and its impact on current race relations." Through her prodigious, hands-on work with TCP, Harris has inspired many women across campus to carry her vision of constructive dialogue back to their workplaces and communities.
Claire Sterk, administrative honoree

Senior Vice Provost Claire Sterk stands out for her mentorship of women, according to her nominators. "There is not one word that we could find to describe her or all of her extraordinary contributions to the community of women both at Emory and beyond its gates," they wrote. So they set out to establish those qualities that made Sterk fit the mold of an Unsung Heroine by talking to people who knew her and her work well. This included her work as a trailblazing public health scholar focusing on drug and substance abuse among young women and as a mentor to aspiring faculty. "She has a way of wanting you to be a better teacher, a better scholar and a better person," said Aukje Kluge, a doctoral fellow in the Institute of Liberal Arts. "She is an inspiration, a true example of what women can and should achieve in academia." Through much gentle and systematic prodding, Sterk moves women to help themselves reach and go higher.
Zoe M. Hicks, alumna honoree

Zoe Hicks' professional life is spent poring over wills and the details of charitable tax planning as an attorney with the Atlanta firm Hicks and Hicks PC. She has even written a book, "The Women's Estate Planning Guide," to help other women understand the basics of tax and trust law. With her husband, Hicks founded Encouragement Unlimited, dedicated to women in underserved communities. The foundation has as its mission "to encourage, equip and empower women to live abundantly." In pursuit of that goal, the organization conducts motivational seminars at shelters, prisons and halfway houses and sends movies, tapes and books to people in areas affected by natural disasters as well as military personnel serving overseas. The group has also sent volunteers to disaster areas, including the Gulf Coast, to help in rebuilding efforts. Said Hicks' nominator, Marvlyn Kirk at Oxford College, "Zoe clearly has a heart for women and their families, especially marginalized women so in need of encouragement, education, support, hope and peace."
Ali P. Crown, retiree honoree

Those familiar with the Unsung Heroine Awards no doubt know that they were the brainchild of the Center for Women at Emory's founding director Ali Crown, who retired in 2008 after 28 years at Emory. The word "tireless" typically falls from the lips of those singing Crown's praises, as they point to her prodigious efforts in creating and supporting programs for women during her tenure at Emory.  Her nominators, Julianne Daffin and Mary Lynn Morgan, former associate vice president of campus life at Emory and trustee emerita, respectively, said of Crown, "She involved literally hundreds of students, faculty and staff in establishing multiple programs, traditions and collaborations with every school and division within the University as well as developing resources within the Center for Women, all in the interest of focusing upon women's concerns across the University." For Daffin and Morgan, and surely the numerous others who have encountered and worked with Crown over the years, she "has left an unprecedented legacy for the leadership of Emory women that is, indeed, a benchmark."