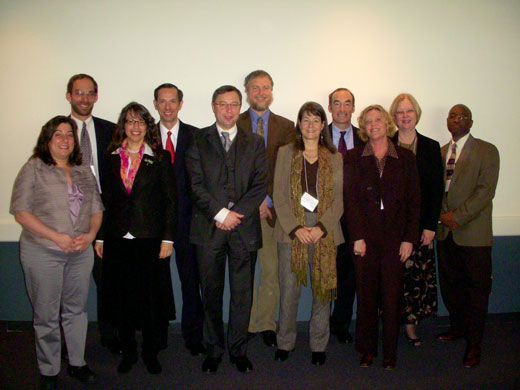 Back row, from left: Ian McFarland, Robert Schapiro, Mark Risjord, Bill Buzbee, Marsha Lewis, Mark Sanders. Front row, from left: Debra Houry, Michele Marcus, Peter Hoeyng, Leslie Taylor, Claire Sterk.
By April Rim
After completing a year-long leadership course, the 2010 graduates of the Academic Leadership Program are ready to use their skills toward the evolving world of higher education.
The 2010 cohort of 10 faculty members from across the University was the second class to go through the Academic Leadership Program.
View the Class of 2010 participant profiles.
The Provost's Office program gives Emory's academic leaders the opportunity for development with two goals in mind: to strengthen academic leadership performance across the University, and to establish a leadership pipeline for succession planning.
The Academic Leadership Program consists of case studies, leadership development training, skills sessions, financial management planning and hands-on projects related to faculty matters.
As part of their training, participants worked on projects focusing on the promotion and tenure practice at Emory and the future of liberal arts at Emory. 
They presented their findings to senior administrators and faculty at a graduation event in December.
"This year's participants showed themselves as leaders not only by what they accomplished together in their group projects, but also by how they engaged in conversation with each other—teaching each other, and those of us who worked with them, what it means to be a leader who earns the trust of his and her peers," says Senior Vice Provost for Academic Affairs Claire Sterk.