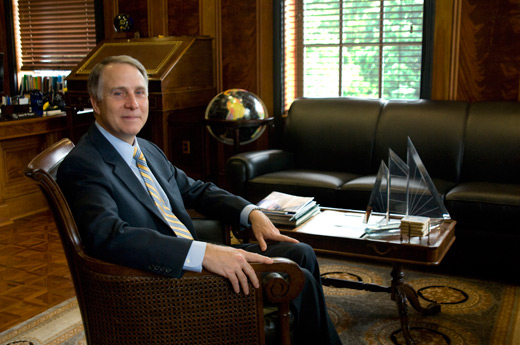 Emory President Jim Wagner has been included in Georgia Trend's 2011 "Power List."
By April Rim
Distinguished members of Emory's community have been named Georgia Trend's 2011 Notable Georgians. The magazine's editorial staff compiles the annual list, selecting Georgians who are poised to exert influence in the coming year.
Natasha Trethewey is the Phillis Wheatley Distinguished Chair in poetry as well as a professor of English. She has published three books of poetry. One of her most recent works, "Native Guard," won the 2007 Pulitzer Prize in poetry. She will be inducted into the Georgia Writer's Hall of Fame this spring.
Betty Willis joined Emory in 1996 and now is senior associate vice president for governmental and community affairs. She also serves on the Board of Directors of the Georgia Chamber of Commerce, DeKalb Chamber of Commerce, and the Metro Atlanta Chamber of Commerce. She was selected as a "Notable Georgian" in 2004 and again in 2007.
Georgia Trend Magazine also puts out a "Power List," compiled of the 100 Most Influential Georgians who affect the course of events in the state. Emory President Jim Wagner was honored for his leadership, for the second year in a row.