Between teaching and performing, the Emory music faculty and artist affiliates find time to produce albums. Sample the music from these recent and upcoming recordings.
"Beyond the Horizon, Volume 2"
Adam Frey, euphonium, with Scott Stewart, alto saxophone
MP3 samples and CDs
Emory artist affiliate Adam Frey's ninth CD release, "Beyond the Horizon, Volume 2" features contemporary compositions for euphonium, a horn-like instrument. The album's final cut, "Conversations" by Barbara York, is a three-movement work for euphonium, alto saxophone, and piano. Scott Stewart, director of wind studies, performs the alto saxophone part, with Michael Fennelly on piano.  
"Concert Organist Timothy Albrecht Performs
Organ Music of Johann Sebastian Bach"
Timothy Albrecht, organ
CDs available at concerts
Timed to release with Timothy Albrecht's "B.A.C.H. Live" concert last fall, the album was recorded on the magnificent Jaeckel Opus 45 Organ in the Schwartz Center for Performing Arts. Pierre Ruhe of artscriticATL.com says the Jaeckel organ "makes the best fit in music by Johann Sebastian Bach—at least under the fingers and feet of Timothy Albrecht, Emory's official university organist for almost 30 years."
"Gothic Chills and Reverberating Thrills"
David Lamb, organ and Scott Stewart, alto saxophone
MP3 samples and CDs
 Performed on two historic pipe organs in Louisville, Ky., David Lamb's latest CD chills and thrills with selections such as Bach's famous "Toccata and Fugue in D Minor," Gounod's "Funeral March of a Marionette," and the "Suite Gothique" by Leon Boellman.  Stewart joins Lamb in the "Sonata for Alto Saxophone and Organ" by Canadian composer Denis Bedard.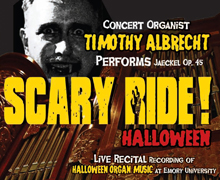 "2010 Halloween Organ Recital in Schwartz: Scary Ride!"
Timothy Albrecht, organ
CDs available at concerts
The live recording of Albrecht's spooky Halloween concert is out this month. Including sound effects such as screams from the audience, the recording will scare and delight all ages. Albrecht appears as Count Dracula.
"Where Shepherds Lately Knelt"
Atlanta Sacred Chorale, directed by Eric Nelson
MP3 samples and CDs
In addition to his responsibilities as Emory's director of choral studies, Eric Nelson is the artistic director of Atlanta Sacred Chorale (ASC), an acclaimed adult chamber choir. ASC's repertoire includes choral treasures from the Renaissance to contemporary as well as familiar hymns, spirituals, and gospel music. The latest CD "Where Shepherds Lately Knelt" features the timeless beauty of Christmas classics.
"Temperaments"
Alejandro Cote, classical guitar, with works by John Anthony Lennon
www.coteguitar.com
Alejandro Cote, classical guitarist and artist affiliate at Emory, will record a CD highlighting music of living American composers. Along with Leslie Bassett's unrecorded solo piece for guitar, "Temperaments," the CD will also include works by Libby Larsen and Emory professor and composer John Anthony Lennon. Lennon's works are "Concert Etudes" and a newly commissioned piece. Release date is fall 2011.