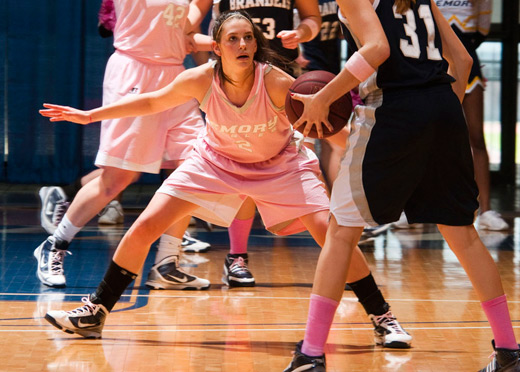 Emory Eagles guard Becca Feldman during last year's Think Pink game.
By Leslie King
The Emory Eagles women's basketball team plays University of Chicago on Sunday, Feb. 13 at its annual "pink" game for breast cancer research and awareness. The 2 p.m. game is the culmination of a week of activities toward those goals led by student-athletes.
Fans are asked to join the team in wearing pink to the game to show support in the fight against breast cancer.
Events and activities include:
• "Pink Out the Pec." Members of the Emory community can write the name of a loved one affected by breast cancer on a pink ribbon. The ribbons are then tied to the railings inside the Woodruff P.E. Center. Last year, "it was really cool to see all of them tied one by one along the railing and great way for us to see our efforts in tangible form," says Kelsey Krzyston, co-president of the Student Athlete Advisory Committee and organizer.
• Pink fundraising: Merchandise and ribbons will be sold and donations taken at the Dobbs University Center, 10 a.m.- 2 p.m. on Monday, Feb. 7, Tuesday, Feb. 8, Thursday, Feb. 10, and Friday, Feb. 11.
• Think Pink Wonderful Wednesday on Feb. 9, 11 a.m. to 2 p.m., Asbury Circle. "We will have a table that is dedicated to breast cancer awareness where men and women can go and learn about breast examinations and the signs of breast cancer," says Jessica Boni, softball player and organizer.
There will be prize giveaways from the Atlanta Thrashers and Atlanta Hawks, plus drawings for an iPod, iPad and $300 Emory bookstore gift card during Emory's Feb. 11 home basketball games with Washington University.
• Proceed nights at local businesses. Includes Willy's at N. Decatur on Tuesday, Feb. 8, from 11 a.m. to 10 p.m.; Uncle Maddio's Pizza Joint in Toco Hills on Wednesday, Feb. 9 from 5 p.m.-8 p.m.; Red Mango at N. Decatur Plaza from 5 p.m. to 8 p.m.; and Chili's in Toco Hills Plaza on Thursday, Feb. 10 from 11 a.m.-11 p.m.
• Softball Tailgate on Saturday, Feb. 12, 12:30 p.m.-3 p.m. on the softball field. The opening day cookout will have free food and activities.
• Pink Tie Affair on Saturday, Feb. 12, 8 p.m. to midnight at Cox Hall Ballroom, co-sponsored by the Student Programming Council. The event is free but purchase of a $10 pink bow tie provides a donation to breast cancer research.
 • Think Pink Eagles game on Sunday, Feb. 13 at 2 p.m. The first 500 attendees get free t-shirts. There will also be free food and giveaways. A special halftime presentation will recognize breast cancer survivors, families affected by the disease, and researchers working on a cure. "We give roses to all of those who in some way have been affected by breast cancer," says Assistant Director of Athletics for Marketing Angie Duprey.
Money raised from the events is given to the Winship Cancer Institute and the School of Medicine Breast Cancer research program.
For more information on the events or donations, contact Angie Duprey at  404.727.6739.