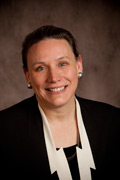 Laurie Patton
Laurie Patton, Charles Howard Candler Professor and Professor of Early Indian Religions, has been selected as the next dean of the Faculty of Arts and Sciences at Duke University. In that role she will be the chief academic and administrative officer of the School of Arts and Sciences, which includes 36 academic departments and programs. The appointment is effective in July.
"Although we hate to say goodbye to a faculty leader with such a high degree of university-wide affection and respect, we do so with gratitude for all she has done and take pride in knowing we are giving one of our very best to a sister institution," says President Jim Wagner.
"This is both a substantial promotion and a resounding validation of the world-class scholarship and far-sighted leadership that have been Laurie's hallmarks at Emory," says Earl Lewis, provost and executive vice president for academic affairs.
"As one of the leaders of the Religions and the Human Spirit initiative in the University's strategic plan, Laurie showed the capacity to reach across divisional and departmental lines in the pursuit of academic excellence. She has only added to her credentials through service as founding director of the Center for Faculty Development and Excellence," Lewis says.
Patton served as chair of the department of religion from 2000-2007, and as Winship Distinguished Research Professor from 2003-06. She was the recipient of Emory's highest award for teaching, the Emory Williams Award, in 2006.
"Everything that I have learned about leadership, integrity and creativity in higher education I have learned at Emory," she says. "Colleagues and students alike have given me the kind of inspiration that comes once in a lifetime, and their vision for higher education is unique. I already carry Emory's example with me wherever I go, and will continue to do so in all of my work in higher education."
Robin Forman, dean of Emory College of Arts and Sciences, says:  "From my first moments on the Emory campus, Laurie emerged as someone with an unusual breadth and depth of understanding about how the University does, and more importantly, how the University should, work. She is remarkably insightful and creative about what is possible to achieve.  Duke has made a brilliant choice. I am very sorry to be losing her as a colleague, but look forward to continuing our conversations and collaborations as she assumes her new role."