Pianist Simone Dinnerstein.
By Kristen Gwock
Emory Music's 2010-2011 season comes to a close with the final Candler Series concert and a number of student ensemble performances.
Pianist Simone Dinnerstein performs the final concert of the Candler Concert Series on Friday, April 1 at 8 p.m.
She will perform works by Bach, Schubert and Schumann.  Tickets: $38; discount category members $32; Emory students $10. 
Earlier that day, Dinnerstein will discuss the life of a full-time performer and the creative process with Atlanta Symphony Orchestra Music Director and Emory Distinguished Artist in Residence Robert Spano at noon in Tharp Rehearsal Hall of the Schwartz Center for the Performing Arts.
Jazz Studies rounds out its season with performances by the Emory Jazz Combos on Tuesday, April 5 at 8 p.m. and the Emory Jazz Ensemble on Tuesday April 19 at 8 p.m.  Both performances will be directed by Jazz Studies Director Gary Motley.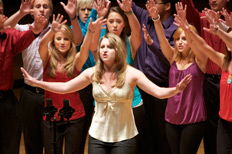 For the Emory Chamber Music Society of Atlanta, the Serafin String Quartet of Delaware will give the Noontime Series concert at the Carlos Museum reception hall on Friday, April 8. 
A family concert, "Webster the Musical Spider and Ferdinand the Bull," with composer and harpist Valerie von Pechy Whitcup will be Sunday, April 10 at 4 p.m. Tickets: $4; museum members at the family level and above are free.
"Barenaked Voices: Eighth Annual Emory Student A Cappella Celebration" is Friday, April 8 at 8 p.m.  This Emory tradition features four student-led a cappella groups and the Emory University Concert Choir in concert benefitting the Emory Student Counseling Center's Helpline and Active Minds.
Emory's music ensembles present several end-of-the-year concerts.
The Emory Chamber Ensembles perform on Sunday, April 10 at 4 p.m. and 7 p.m. The following week Emory Percussion Ensemble and "Echoes of Asia," Emory World Music Ensembles take the stage on Sunday, April 17 at 4 p.m. and 7 p.m., respectively.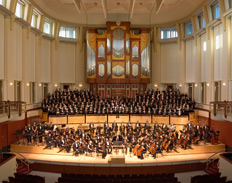 Emory University Symphony Orchestra and University Chorus will have a joint concert April 15 and 16 at 8 p.m. They will perform the world premiere of John Anthony Lennon's "Eternal Gates," based on the "Egyptian Book of the Dead." A discussion panel will precede the concert from 7:15-7:45 p.m.
The Emory Wind Ensemble directed by Scott Stewart presents "Innovation A Festival of New Music for Winds and Percussion" on Wednesday, April 20 at 8 p.m.
The Emory Concert Choir performs "Here and Now: Recently Composed Works for Choir and Instruments" on Thursday, April 21 at 8 p.m.  The concert will include choral works by Whitacre, Theofanidis and Pärt featuring Emory's quartet-in-residence, Vega String Quartet.
Unless otherwise noted, all concerts are free and open to the public and take place in the Emerson Concert Hall of the Schwartz Center for Performing Arts. For tickets and information contact the Arts at Emory Box Office at 404.727.5050.