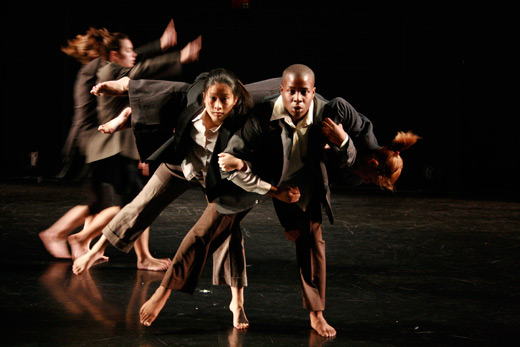 The Alumni Concert dance performances begin at 8 p.m. in the Dance Studio at Emory's Schwartz Center for Performing Arts. Image courtesy Emory Dance Program.
By Nicholas Surbey
The Emory Dance Program presents the first Alumni Dance Concert March 25-26, showcasing works choreographed by alumni working in the field as performers, choreographers, teachers and scholars.
The concert caps off several days of reunion activities in which dance alumni will have the opportunity to share their work with current students, take classes together, and reconnect with Emory's creative campus.
Established in 1987 under the leadership of Sally Radell, Emory's dance program continues to grow and thrive, teaching dance scholarship and performance technique and attracting both students and Atlanta professionals.
"The program's success has been realized in the lives of our graduates, who have made their mark across the country as innovators and educators," says Anna Leo, the program's current director. "It is a momentous occasion to welcome them back and celebrate their artistry." 
The concert's diverse lineup features local talent as well as national artists from New York, Chicago, Tennessee, Michigan and California. The works share a common grounding in contemporary movement, yet are distinct in approach, style and content.
Alumni artists will share their work in two distinct programs on Friday and Saturday nights.
Christine Suarez '94C romps with a champagne bottle; in her duet, Elizabeth Dishman '95C punctuates lithe and sumptuous movement with frustrated efforts at intimacy; and Kathleen Wessell '03C examines compromise, desire and freedom through a feminist lens in a work that features dancers from Spelman College. 
Other choreographers include M. Dela Sweeney '06C, Caitlin Savage '10C, Dardi McGinley Gallivan '90C, Andrea Catchings '99C, Sophie Slensinger '09C, Alyssa Bruehlman '10C and many others.
Black Beckham, a 2001 graduate of the program, will present a quartet featuring alumni dancers and current students. "The Emory Dance Program absolutely changed by life," says Beckham.
"Because of the thoughtful, personal investment by faculty members like Lori Teague, I chose to pursue a career in dance, and I discovered my voice as an artist. It is a privilege to belong to this distinguished community of movers," Beckham adds.
The Alumni Concert dance performances begin at 8 p.m. in the Dance Studio at Emory's Schwartz Center for Performing Arts. General admission tickets are $10, with $5 tickets available to students, Friends of Dance Members and other eligible patrons. For more information on tickets, directions and parking, visit Arts at Emory.