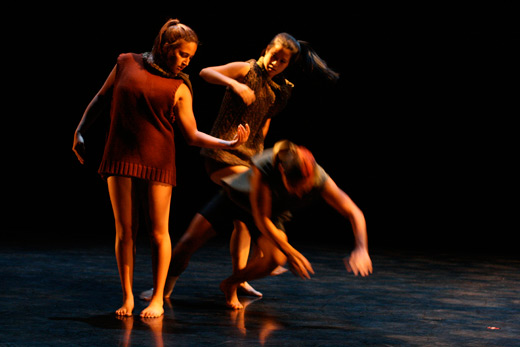 A fall performance by the Emory Dance Company. Photo by Lori Teague.
By Anushka Bharvani
Emory Dance students take on a wide range of subjects, music, and movement styles to create an evening of bold and innovative new work with "Shift," the Emory Dance Company spring concert, April 14-16 in the Schwartz Center.
"Shift" includes the works of choreographers Anushka Bharvani, Sandra Chan, Kirsten Cooper, Jillian Edelstein, Kala Seidenberg and Mohammad Zaidi.   
In "Grown Unknown," Bharvani draws on personal experience living with a grandfather afflicted with Alzheimer's to depict how a disease of the mind can ravage both body and spirit. Bharvani incorporates cherished memories from each of her eight dancers into the movement of the piece, to give all a voice in the work.
In her second work for the Emory Dance Company, Chan's "The Preposition(s) after Set," draws upon her observations during her semester abroad.  Chan believes that "everyone lives in their own box" and this box "defines people's experiences."  While some choose to remain within their box, others are more willing to venture outwards.
Cooper's "just another Deconstruction" is inspired by the music of two giants of the bebop jazz movement, Dave Brubeck and Thelonious Monk. Cooper reflects that the music seemed to her "familiar, yet entirely different, beautiful, yet intellectual, accessible, yet very internal."
Edelstein's "dissonantia" combines the intellectual commitment of eight dancers with mixed electronic sounds to create a work of tension, suspense and emotionality.
Seidenberg uses time as the theme of her work entitled "Not at Once." The main time measure used is music and Seidenberg has chosen two different pieces of music, jazz and electronic, to show the various ways one can work with and against the music.
Zaidi, in his work "Universal Attachment Base," hopes to engage the audience by deconstructing varying aspects of performance and dance. Zaidi's interests lie in spatial relationships and movement intent, as well as "layering recorded ambient softness with the sounds of live human breath and angst" in order to create visual images on stage. 
Emory Dance Company performs "Shift," April 14 and 15 at 8 p.m. and April 16 at 2 p.m. and 8 p.m. A public reception will follow the final performance.
Tickets: $8 general admission; $6 all discount groups. For more information, contact the Arts at Emory box office at 404.727.5050.