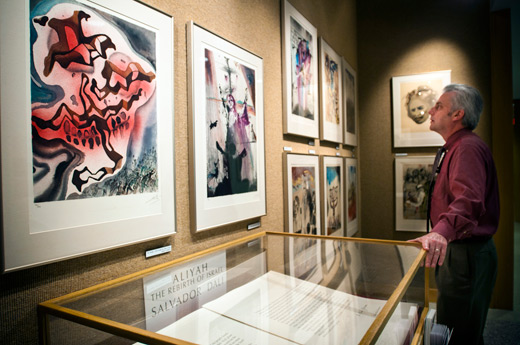 Executive Director of Hillels of Georgia Wayne Silverman takes in the new Salvador Dali exhibit on display at the Marcus Hillel Center at Emory.
By Mary Loftus
The muted walls of the Marcus Hillel Center provide a perfect backdrop for the passionate colors of Salvador Dali's "Aliyah: The Rebirth of Israel," a little-known suite in which the late Spanish surrealist portrays the epic history of the Jewish diaspora and the return to the homeland. 
Ursula Blumenthal purchased the limited-edition lithographs many years ago as a gift to her husband, religion professor David Blumenthal, in memory of their first date in 1965, on which they went to see an exhibit of Dali's paintings at the Huntington Hartford Museum in New York.
The set of 25 colored prints was kept in its original box and stored safely under the couple's piano for nearly 30 years, until Ursula Blumenthal had the idea of displaying the series in honor of Emory's Marcus Hillel Center, which recently opened as a hub of Jewish life on campus.
"I am so glad it's here where it can be seen and appreciated," she says.
David Blumenthal, the Jay and Leslie Cohen Professor of Judaic Studies, also curated the "Aliyah" exhibit, which will have its formal opening March 17 and will remain on loan through June.
"Dali was commissioned to do this suite, which led some to believe it's not serious work," he says. "I believe it was serious, commissioned work."
"There are no accidents with Dali," adds Ursula Blumenthal. "He worked very carefully, very deliberately."
The original "Aliyah" works took two years for Dali to complete, and were commissioned by Shorewood Publishers, a New York firm noted for art publications. After its grand opening at the Huntington Hartford Museum's Gallery of Modern Art in New York on April 1, 1968, 250 sets of 25 lithographs each were produced and then the stones were destroyed, ensuring that there would be no more reprints; the Blumenthal's (No. 150) is the only known set in Atlanta.
For the Hillel exhibit, Blumenthal has organized the lithographs—all of which are signed and many of them dated—historically and thematically. A favorite section is the four iconic images of exile and hope: "A Voice is heard in Ramah," "The Wailing Wall," "For it is thy life and the length of thy days," and "Return, O virgin of Israel."
"The Hebrew word aliyah means 'ascent'; in later Hebrew, it was broadened to mean 'to ascend to the land of Israel,' " says Blumenthal. "After centuries of oppression in the exile, aliyah is a commitment to the rebirth of the Jewish people, to the renaissance of the Jewish spirit, in its own space."
Despite critics' contention that Dali was anti-semitic or driven solely by a desire for profit, Blumenthal sees a deeper understanding communicated through the thoughtfulness of the "Aliyah" series.
"When he handled Catholicism, he was aggressively Dali," Blumenthal says. "But, in regard to Zionism, he is more respectfully Dali."
An audio tour, narrated by Blumenthal, is available for free download via iTunes U on iPod Touch or iPhone. Visitors may check out iPods at the Marcus Hillel Center reception desk.