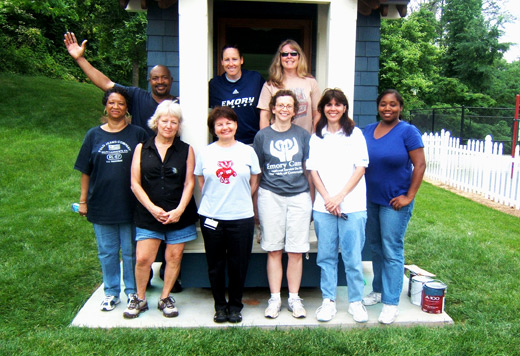 Volunteers work on a service project during last year's Staff Fest.
By Leslie King
Staff Fest, Emory's tradition of thanking employees and administrators for their work and support, is Friday, May 13.
Staff Fest's main event features favorites including a DJ and refreshments of popcorn, ice cream, frozen fruit bars, smoothies, assorted beverages and more.
It also offers Emory Information Central, opportunities to learn more about the many benefits Emory offers its employees at tables set up around the Quad about the variety of programs, benefits, organizations and activities.
While the main event is 1-3 p.m. on the Quad, there are a variety of activities starting in the morning.
The service component, begun a few years ago at the impetus of the Employee Council with Volunteer Emory, continues with some new options.
"We are thrilled that there's been such a great response among the Emory community that the community service option has grown every year," says Matt Engelhardt, a past Employee Council president.
Available this year:
• Planting, weeding and cleaning the playground area at the Child Development Association in Roswell.
• Shaving, cutting and packaging soap for developing countries for the Global Soap Project.
• Preparing areas for planting, planting summer crops and blueberries, mulching, harvesting at Oakhurst Community Garden.
• Assembling and stocking shelves, assembling a mailing at Ahimsa House, which helps human and animal victims of domestic violence.
• Assisting in life skills class at International Rescue.
Linda Sheldon, Campus Services and a past Employee Council president, who is volunteering this year with the Global Soap Project, says she "can't wait to cut up soap. I think it's going to be a lot of fun!"
She also points out that the Oakhurst Community Garden project "is always a blast — muddy but fun."
This year, the Employee Council is encouraging volunteers to ride the Cliff buses to the project sites. "It's part of the fun and a good way to get to know your fellow participants," she said.
Service projects run from 9 a.m. to noon and transportation is provided.
The morning also offers opportunities to get outside and play with the Fun Run, Fun Walk and volleyball tournament.  The run and walk are at 10 a.m. and 10:30 a.m. respectively, starting at the Clifton Road entrance to Lullwater Reserve.
Interest in the volleyball tournament remains high with two courts to accommodate up to 20 teams in the refereed play. Prizes are awarded to the first-, second- and third-place teams. Register a team for the contest, which will run from 11 a.m. to 2 p.m.
In the event of rain, only refreshments will be served at the Lower Level Terrace of the Dobbs University Center.
Check the
Staff Fest website
for full information and updates.