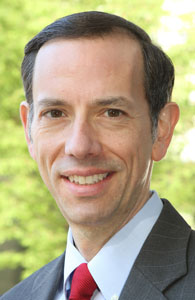 Professor Robert A. Schapiro has been appointed interim dean of Emory University School of Law, effective July 1.
A member of the Emory Law faculty since 1995, Schapiro is a leading constitutional scholar, with particular expertise in federalism and state constitutional law. He teaches courses in constitutional law, federal courts, civil procedure, and legislation and regulation. He also has been serving as associate vice provost for academic affairs for the University and co-director of Emory Law's Center on Federalism and Intersystemic Governance.
"Robert brings to the role superb academic and legal credentials as well as strong administrative experience," said Provost Earl Lewis in making the announcement.
Lewis also cited Schapiro's service as faculty counselor to the Finance Committee of Emory's Board of Trustees, "where he gained deep insights into the broader workings of the University."
Lewis plans to name an advisory committee with representatives from the law school community to assist in identifying individuals to be considered for the permanent dean. That process is expected to conclude by late December or early January, says Lewis, with the appointment of a permanent dean anticipated by the middle of spring semester 2012.
Schapiro has served as Emory Law's associate dean of faculty (2006-08) and as associate faculty director for Emory's Halle Institute for Global Learning (2008-10).
An award-winning teacher, Schapiro received the Emory Williams Distinguished Teaching Award in 2009, the Ben F. Johnson Faculty Excellence Award in 2004, the Most Outstanding Professor Award (as voted on by Emory Law's graduating class) for the 2000-2001 academic year, and the Professor of the Year Award from the Black Law Students Association in 2001.
His recent book, "Polyphonic Federalism: Toward the Protection of Fundamental Rights" (University of Chicago Press, 2009), argues that the dynamic interaction of states and the national government advances important values in our democracy. 
Related: "Book|Report podcast: The case for a new federalism"
 Among his other publications are: "Interjurisdictional Enforcement of Rights in a Post-Erie World," in "New Frontiers of State Constitutional Law: Dual Enforcement of Norms" (James A. Gardner & Jim Rossi eds., Oxford University Press, 2011); "Monophonic Preemption," Northwestern Law Review (2008); "Federalism as Intersystemic Governance: Legitimacy in a Post-Westphalian World," Emory Law Journal (2007); "Justice Stevens' Theory of Interactive Federalism," Fordham Law Review (2006); "Unidimensional Federalism: Power and Perspective in Commerce Clause Adjudication," Cornell Law Review (2003, with William Buzbee); and "Legislative Record Review," Stanford Law Review (2001, with William Buzbee).
Schapiro received a bachelor's degree, summa cum laude, from Yale College in 1984 and a master's degree in history from Stanford University in 1986. He earned his juris doctor in 1990 from Yale Law School, where he was editor in chief of the Yale Law Journal.
Following law school, Schapiro clerked for Judge Pierre N. Leval, then of the U.S. District Court for the Southern District of New York, and for Justice John Paul Stevens of the U.S. Supreme Court. Schapiro worked with the law firm of Sidley & Austin in Washington, D.C., where he practiced general and appellate litigation. He taught for two years at Duke University Law School before coming to Emory.