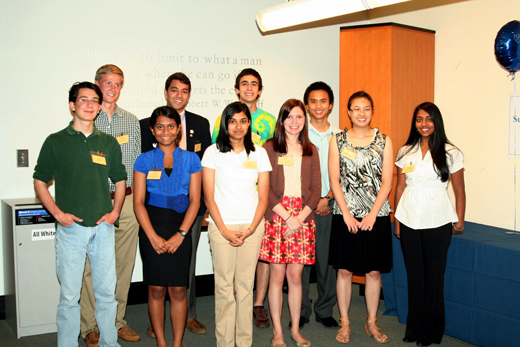 Emory's Winship Cancer Institute gives high school students who are interested in science real-life experiences in a biomedical research laboratory.
By Quinn Eastman
"What energetic souls can accomplish in six weeks" is how Emory oncologist Mary Jo Lechowicz describes the Summer Scholars Research Program at Winship Cancer Institute. Lechowicz directs the program, which allows high school juniors from the Atlanta area to discover the world of cancer research.
The program, started by local Westminster High School biology teacher Andrea Allio 10 years ago, has both academic and practicum components. Faculty treat the students as full members of the lab team. Students also take field trips throughout Winship, visit the labs in Emory School of Medicine, and become grounded in published articles on cancer biology.
"We provide a genuine experience in a biomedical research laboratory for high school students who have a keen interest in science," Lechowicz says.
At a July 12 graduation ceremony, students each described their research and fielded questions from mentors.
Giovanni Righi from Collins Hills High in Gwinnett County dove into the forefront of stem cell research, working with regenerative medicine expert Young-sup Yoon. He was able to take connective tissue cells from mice and turn them into "induced pluripotent stem cells" using the latest genetic engineering techniques.
Students have a limited window of time to complete complicated protocols.
"It was unexpected that the cells grew so fast near the end," he says. "I'm glad that there was enough time to see the process from the beginning."
Other students embarked on "dry" data-analysis projects. Aaron Bhole from Riverwood International Charter in Sandy Springs helped a team from the Department of Surgical Oncology assemble a database compiling colorectal surgery outcomes. He described his experiences meeting surgeons, oncologists and the patients they treat as "life-changing."
Michelle Vu from Lakeside High School in Atlanta worked in biochemist Anita Corbett's lab studying the yeast cousin of a protein linked to inherited intellectual disability. Graduate students and postdocs in the lab taught her how to run gels, perform Western blots, and create mutations in proteins.
"I really appreciate how they accepted me into their lab," Vu says.