Christy Bradley


Suresh Ramalingam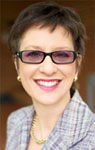 Holli Semetko

Andrea Trinklein
Christy Bradley was invited to serve as an adjudicator at the 1st China National High Schools' English Debating Championship in Nanjing, China.
Bradley is operations manager of the Barkley Forum, Emory 's debate team and community service organization.
Following her experience in China, Bradley attended the Asian Debate Institute at Kyung Hee University in South Korea.
Suresh Ramalingam has been named chair of the thoracic malignancies committee for the Eastern Cooperative Oncology Group, one of the oldest and largest cooperative cancer groups in the country.
Ramalingam is director of the division of medical oncology in the Department of Hematology and Medical Oncology at the Winship Cancer Institute and a leader of Winship's Discovery and Developmental Therapeutics Program.
As chair of this committee that selects new trials for such cancers as lung and other malignancies of the chest, Ramalingam will be in a leadership role to help design studies and to test new treatments for lung cancer.
Holli Semetko has been named a life member of the Council on Foreign Relations, the nation's most influential think tank on international affairs and foreign policy.
Semetko is vice provost for international affairs and director of The Claus M. Halle Institute for Global Learning.
She was nominated for her international expertise and her initiatives including creating Emory's Knowledge Futures initiative, the endowed Turkish Lecture Series, Cartooning for Peace at the United Nations and, with Raymond Schinazi, Cartooning for Peace and Health. She extended The Halle Institute's study trip programs.
Andrea Trinklein is the 2011 Herstory award recipient from the Association of College and University Housing Officers - International.
Trinklein is executive director of residence life and housing.
The award honors the past women presidents of ACUHO-I, recognizing women who are leaders and who inspire others.
The selection committee noted Trinklein's leadership in five new residence halls at Emory since 2007 and for presenting more than 75 workshops regionally, nationally and internationally in her career.