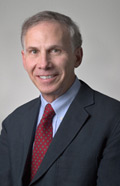 Joel Bowman


Martha Fineman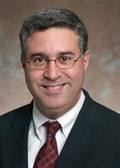 Fadlo Khuri
Joel Bowman chaired a recent meeting in Xi'an, China, at the International Conference on Theoretical and High Performance Computing in Chemistry.
Bowman is the Samuel Candler Dobbs Professor of Theoretical Chemistry in Emory College of Arts and Sciences.
His session was on "Nuclear dynamics on high-dimensional ab initio potential energy surfaces." The conference, supported by the Virtual Laboratory for Computational Chemistry, Supercomputing Center, Computer Network Information Center, Chinese Academy of Sciences was focused on theoretical chemistry and high performance parallel computation.
Another paper by Bowman, "Dynamics of the Reaction of Methane with Chlorine Atom on an Accurate Potential Energy Surface," has been accepted for publication in Science magazine.
Martha Fineman was cited by the Barnard Center for Research on Women for her influence and pioneering work in the field of vulnerability.
Fineman is Robert W. Woodruff Professor of Law and facilitator of Emory's Vulnerability and the Human Condition Initiative. She founded the Feminism and Legal Theory Project, based at Emory since 2004.
Referencing Fineman's influence, the Barnard Center announced its 37th Annual Scholar and Feminist Conference will be dedicated to exploring the concept of vulnerability.
Fadlo Khuri has been selected as the new editor-in-chief for "Cancer," a peer-reviewed journal of the American Cancer Society.
Khuri is professor and chair of hematology and medical oncology in the School of Medicine, deputy director for the Winship Cancer Institute and Roberto C. Goizueta Distinguished Chair in Cancer Research.
Khuri, who began his term on Sept. 1, has accepted a 5-year term for the editorship.