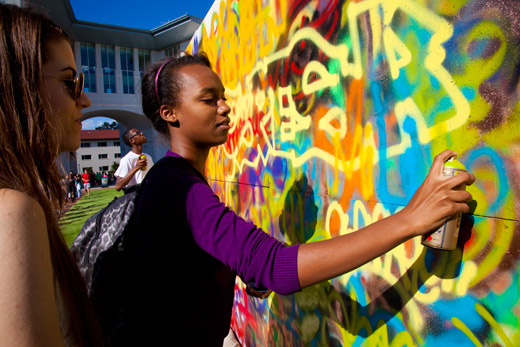 A swirl of music, dance, poetry reading and visual arts exhibits offered a kaleidoscopic look at this year's arts scene at Emory.


By Jessica Cook
Graffiti, improvisational music, and hundreds of freshmen filled Patterson Green, just outside the Schwartz Center for Performing Arts on the afternoon of Friday, Sept. 9.  This marked the beginning of the Creativity & Arts Soiree—hosted by the Emory College Center for Creativity & Arts, offering Emory and Atlanta community members a taste of the arts at Emory.
Students arrived first. As part of the Pre-major Advising Connections at Emory (PACE) program, the event gives freshmen an opportunity to learn about arts programs and meet with faculty and upperclassmen. They also receive the Arts Passport, which gives free access to ticketed arts events.
Inside the Schwartz Center were art activities, open rehearsals and performances. Student group Rathskeller held comedy improv performances. Afterward, Skeleton Crew members taught the basics of breakdancing in a participatory-style workshop. In the dance studio, Kathleen Wessel '03C, a guest faculty this year, led students in a rehearsal for the fall Emory Dance Company concert.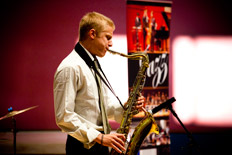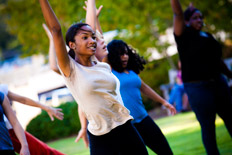 Activities draw in audience
Featured music performances were tango, jazz and organ. Freshman Brian Kim said it was the first time he had seen live jazz and noticed the "great acoustics in the concert hall." Nawoo Kim also enjoyed the music: "I play bass guitar, but really liked the sound of the upright bass."
Audiences elsewhere were engrossed in film screenings and poetry readings. "The poetry was cool, I enjoyed it," says Grace Yang.
By 5:30 p.m., Atlanta and Emory guests began entering the Chace Upper Lobby for a reception. Emory College Dean Robin Forman spoke, noting how arts at Emory have the opportunity to be "challenging," which is not always the case in more commercial settings. 
Creativity & Arts awards presented
The soiree ended with the 2011 Creativity & Arts Awards ceremony. Center for Creativity & Arts Director Leslie Taylor presented the awards, which recognize those who have made significant artistic and administrative contributions to the arts.
The 2011 award winners are:
•    Alumni: D. Patton White '83C, artistic director of Beacon Dance
•    Community Artist: Malina Rodriguez, artistic director and co-founder of Dance Truck
•    Community Arts Administrator: Chris Appleton, co-founder and executive director of WonderRoot
•    Faculty: James W. Flannery, Winship Professor of Arts and Humanities and director of the W. B. Yeats Foundation
•    Graduate Student: Joey Orr, founder of The Visual Scholarship Initiative
•    Staff: Mary Catherine Johnson, assistant director of Emory's Visual Arts Department and Gallery
•    Undergraduate Student:  Charlotte Watts, founder of the Emory Arts Club and current president of the STIPE Society of Creative Scholars
•    Volunteer: Jennie Saliers, board member and volunteer for Emory's Friends of Music
In her closing remarks, Taylor spoke of the collaborations among Emory departments, as well as with the Atlanta community. The spirit of collaboration is particularly strong for the 2011-2012 arts season:  a year of thematic programming around water will extend across genres and connect art with science.
View the full calendar of Emory arts events for 2011-2012 at www.arts.emory.edu.