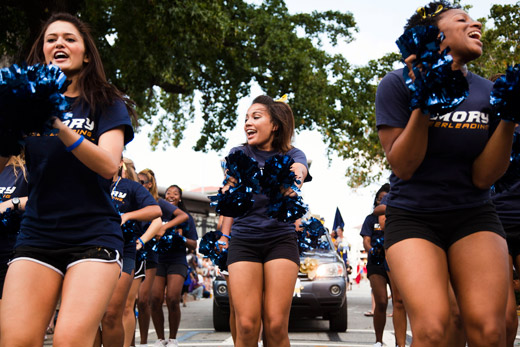 School spirit was on full display during Homecoming 2010.
By Tania Dowdy
Emory Homecoming Weekend is a highly anticipated celebration that marks alumni's return to the University, and this year the weekend will incorporate Emory's 175-year legacy. 
With a full slate of events from Sept. 23-25, Homecoming at Emory is an opportunity for alumni to explore campus changes since their days on the Quad, and reconnect with fellow alumni. 
It's also a weekend filled with festivities, featuring the third annual Spirit Day on Saturday, Sept. 24. Show your Emory pride during the parade on Asbury Circle, join the tailgate party before cheering on the Eagels men's soccer team, then sing along with "Superman" vocalist Five for Fighting at a concert on McDonough Field.
"Homecoming brings together students and alumni to create memories and traditions," says Gloria Grevas, Emory Alumni Association (EAA) director of student and alumni programs. "But it goes farther than that to include faculty, staff and administrators who have made an impact on the alumni who return."
University-wide activities feature fun and fitness, like the Oxford College Fall 5K and the Homecoming Intramural 5K Run, and range from educational events like faculty lectures, planetarium shows and career enrichment, to special events like the 2011 Atlanta Music Festival.
In addition, homecoming serves as a reunion weekend—an opportunity for former classmates to catch up at exclusive events.
"Reunion classes will gather on Friday night in bars and restaurants across Atlanta for casual gatherings," says Kate Lawlor '01C- '10B, senior director of alumni relations for Emory College.  "They'll come to campus on Saturday to celebrate underneath the tent at the concert, and then celebrate their formal reunions that night at campus spots, from the Candler Library Reading Room to the Carlos Museum."
Several anniversaries noted
While class reunion attendees toast to 30 years with friends, other Emory organizations will celebrate anniversaries during the weekend, including Alpha Tau Omega, the Barkley Forum, and the Office of LGBT Life.
Emory's also celebrating 175 years, and little touches of the anniversary will be included in various activities. As a nod to the University's milestone, faculty, staff, alumni and students will have a special opportunity to participate in the 175 Connections project—a collection of stories of friendships and relationships made through Emory, "which illustrates the lasting ties that are built here," Grevas says.
"We'll have a photo booth at the Dooley Statue on Asbury Circle and at the concert where people can take a photo together and share their story with us," she says. 
These stories will be collected and shared through the EAA website.
With activities ranging from McDonough Field to the Oxford College campus, follow the EAA's blog, EAAvesdropping and Facebook fan page for updates throughout #emoryhomecoming2011 weekend.
For a complete schedule of events, visit emory.edu/homecoming.