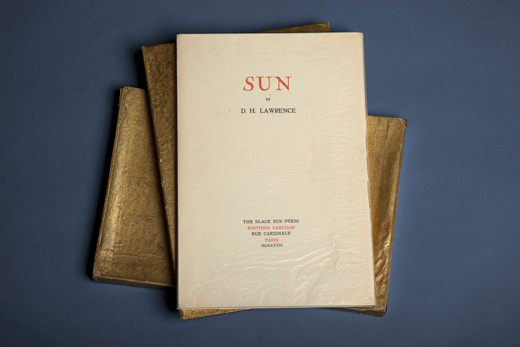 The Black Sun Press published works considered controversial or experimental by writers like D.H. Lawrence and James Joyce.
By Kim Urquhart

There is a kind of rock-and-roll quality to the story of Caresse and Harry Crosby, who founded the Black Sun Press in Paris in the 1920s, says Kevin Young, curator of "Shadows of the Sun: The Crosbys, the Black Sun Press & the Lost Generation." They lived a decadent lifestyle in Paris in the 1920s, and it shows in both their work and their life, he says.
Now on display at the Woodruff Library's Schatten Gallery through March 16, the exhibition centered on the Crosbys' work and life shines a light on modernism and the generation of writers, artists, jazz musicians and exiles in Paris after the World War I.
"As you walk around this exhibit, you'll see that Harry and Caresse Crosby were at the center of a creative and intellectual community that believed in sharing ideas, breaking boundaries, and inventing a brave new vision of the future," said Director of Libraries Rick Luce at the opening reception on Sept. 27.
The Black Sun Press  — whose books were characterized by high-quality pages and printing  — published the early works of many writers, including Ernest Hemingway and Hart Crane, including works considered controversial or experimental by writers like D.H. Lawrence and James Joyce.

Many of these books were censored, banned or would not have been published until the Crosbys championed them, says Young.

"A lot of the artistic freedoms that the Lost Generation fought for are ones we enjoy today," says Young.
The exhibition materials are drawn from a nearly-complete collection of books published or owned by the Crosbys in the Raymond Danowski Poetry Library at Emory's Manuscript, Archives, and Rare Book Library (MARBL), and includes books by other small Paris publishers.
There are also excerpts from experimental and avant-garde films of the era and a 1963 documentary on Caresse Crosby's life.
As the curators opened the boxes to the collection two years ago, it was clear "this had to be our next show," recalled Young, who curates the Danowski Poetry Library and literary collections at MARBL. "These books tell a story," he said, not only in the text but in their physical condition, the quality of the printing, and their inscriptions. They help us understand a time, between wars, he said, and a place, Paris.
"One of the reasons that we're thrilled to share this exhibition is because we see the library in a similar role, one that supports a creative and intellectual community here on the campus and beyond," says Luce.
A smaller, accompanying exhibition called "Postcards from Paris," about expatriate literary and artistic figures, is curated by Amy Hildreth, a doctoral candidate in English. It includes photographs and information about Gertrude Stein, Hart Crane, Paul Robeson, D.H. Lawrence, e.e. cummings, Malcolm Cowley and Claude McKay.