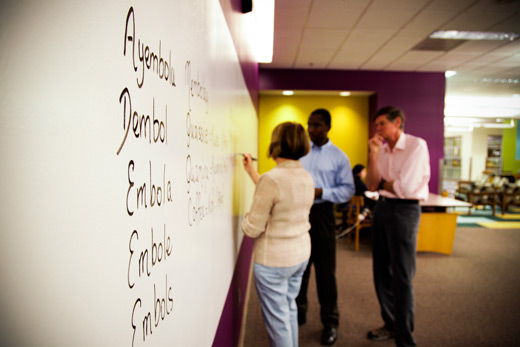 The project team studies the names of Africans aboard early 19th century slaving vessels.
By Elaine Justice
Little is known of the ancestry of Africans pulled into the trans-Atlantic slave trade, but a new website called African-Origins, launched at Emory this week, aims to change that.
"The website provides a rare glimpse of the identities of Africans aboard early 19th century slaving vessels, and through this information, the possibility of tracing the origins of millions of other Africans forcibly transported to the Americas," says David Eltis, Woodruff Professor of History and leader of the project.
For most of the duration of the slave trade, "once an African was boarded onto a slaving vessel, her identity and history became effectively lost," says Eltis.
"She became a number, and in the Americas was usually given a new name. With this new data, and through widespread public participation made possible by this website, we have a chance to get some of that history back."
The rare listing of African names in the African-Origins database comes from registers created by various maritime courts located around the Atlantic. These courts decided cases of slaving ships intercepted by anti-slave trade cruisers after the British slave trade was outlawed in 1807. Currently, the site has information on nearly 10,000 Africans who were liberated in Havana, Cuba. Once information is added from registers in Freetown, Sierra Leone, the number of named Africans in the database will expand to almost 100,000.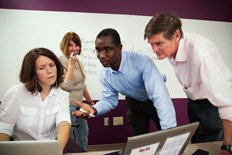 "Public participation will be critical to piecing together this missing history," says Eltis. "The historical records from which this site is built contain a unique and valuable piece of information—the African name—which is missing from so many other records of the slave trade."
Visitors to the African-Origins database can see, in addition to the names of those liberated from slaving vessels, such details as gender, age and African port of departure.
"Because names used within African languages and social groups have remained fairly consistent over the last two centuries," says Eltis, "the names listed in this database are clues to the linguistic and ethnic origins of the Africans on board these vessels."
Volunteer help sought
Eltis and a team of scholars are now looking for help in identifying the modern counterparts of these names and the languages and ethnicities with which they are likely associated. Through African-Origins.org, those with knowledge of African languages and cultural naming practices can suggest these links.
By taking a few minutes to search and listen for familiar names and contribute a modern counterpart, language and ethnic group, members of the public can help identify the language, ethnic and geographic origins of people listed in these registers, and subsequently the likely origins of millions of other unnamed Africans enslaved during this period.
With these insights, scholars serving as editors of the database can consider the range of possible languages and groups affiliated with a name alongside historical research of peoples' locations and movements across Africa.
"As contributions are received and analyzed, new information will be added to the African-Origins database on the likely language and ethnicity of each individual," says Eltis.
Visitors to the site will eventually be able to search for Africans by linguistic group and view maps of the historical locations of people pulled into the trans-Atlantic slave trade.