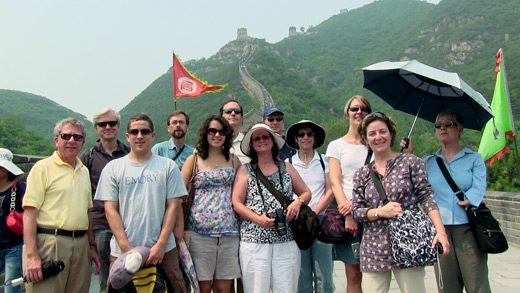 (Front row) Hank Klibanoff, Evan Goldberg, Skylr Kemp Martucci, Karen Martucci, Rosemary Magee, Carla Freeman, Rosemarie Garland-Thomson; (back row) Steve Everett, Hal Jacobs, Ken Anderson, Hubert Tworzecki, Kristi Hubbard. (Photo courtesy of Hal Jacobs)
By Leslie King
Emory staff and faculty are traveling the globe this summer, visiting places as far away as the Scottish Highlands and as close as Highlands, N.C. Here is a sampling of faculty and staff whose travel is enriching their work at Emory.
Linda Armstrong, senior lecturer in the Visual Arts Department, recently completed a three-month artist residency at Takt Kunstprojectraum in Berlin.  She also spent the first week of July at the Venice Biennale, an international survey of contemporary art.
Carla Freeman and Robert Goddard are learning about Neolithic sites in northern Scotland. Freeman, associate professor of anthropology, and Goddard, lecturer in Latin American and Caribbean Studies, are visiting Goddard's family from Orkney and Shetland off the northernmost tip of Scotland's mainland.
Susan T. Henry-Crowe joined 1,000 church leaders and delegates from around the world at the International Ecumenical Peace Convocation of the World Council of Churches in Jamaica. Emory's dean of the chapel and religious life is the sole American representative on the Spiritual Life Committee. Candler School of Theology Dean Jan Love also attended.
Diane Solomon Kempler is in Kecskemet, Hungary on a residency this summer at the International Ceramic Center. The senior lecturer in visual arts is developing new ideas for her sculpture and becoming acquainted with traditional Hungarian ceramics.
Bruce M. Knauft went to Ulaanbaatar, Mongolia, where the Samuel C. Dobbs Professor of Anthropology and director of Emory's States at Regional Risk Project organized a first-of-its-kind conference, "Mongolians After Socialism."
Rosemary M. Magee, vice president and secretary of the University, and Holli A. Semetko, vice provost for international affairs, led a Halle Faculty Study Trip to East Asia. Joining them were Emory faculty and staff: Kenneth L. Anderson, Stacy Bell, Rong Cai, Steve Everett, Carla S. Freeman, Evan M. Goldberg, Kristi L. Hubbard, Hal C. Jacobs, Hank Klibanoff, Karen K. Martucci, Rosemarie Garland-Thomson and Hubert Tworzecki.  The delegation visited Shanghai, Nanjing, Beijing, Seoul and Hong Kong, hosting receptions for new students, parents, alumni and friends in China and in Korea.
Bobbi Patterson will be trekking through the ancient Tibetan Buddhist kingdom of Mustang in Nepal during July and August.  The 15-day trek will take her through the 800-year-old stories of Mustang's Buddhist temples, monasteries, stupas (religious monuments) and villages and be a source of images, materials and insights for her religion classes.    
Judy Raggi-Moore, director of the Italian Summer Studies Program in Italy and the Catholic Studies minor, and Father Bryan Small, director of the Emory Catholic Center, accompanied the first study-abroad classes of the Summer 2011 Emory Italy program. The six-week program toured central Italy and included special tours underneath St. Peter's Basilica and of Castel Gondolfo, the Pope's summer home.
William Ransom makes his usual change in altitude, going to the North Carolina mountains to direct the Highlands-Cashiers Chamber Music Festival as he does each summer. The piano professor and director of the Emory Chamber Music Society of Atlanta participates in the 27-concert festival running through Aug. 14 and celebrating its 30th anniversary.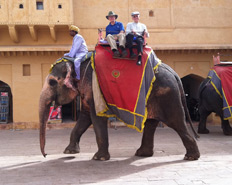 Peter Roberts, associate professor of organization & management, leaves for Honduras in late July with a team of Emory students. The group will continue their analysis of the feasibility of establishing a world-class and financially self-sustaining ophthalmology center in the city of San Pedro Sula. This project is the second in a series of Global Feasibility Studies sponsored by Social Enterprise @ Goizueta.
President Jim Wagner celebrated the 600th anniversary of St Andrews University in Scotland in June. Emory and St Andrews formed ties in 1976, when the first group of students traded places through the Bobby Jones Scholarship exchange program. Jones was an Emory Law alumnus and world-renowned golfer. Wagner attended a graduation dinner at the university, and the following evening hosted an alumni reception in medieval Dairsie Castle. He also traveled to London for a second alumni reception held at the Royal Automobile Club.
An Emory delegation recently returned from travels in India, where they visited several institutions of higher education. The group included Provost Earl Lewis, Oxford College Dean Stephen Bowen, Emory College Dean Robin Forman, Vice Provost for International Affairs Holli A. Semetko and Marion Creekmore, visiting distinguished professor of political science in Emory College.