In August, a cloaked Faduma Ahmed Mohamed boarded a plane in Kenya bound for Atlanta. Her baggage consisted of the clothes on her back, a small collection of head scarves and four photos of the old Faduma, a fresh-faced teenager who fantasized about coming to America to catch a glimpse of Beyonce or Tyra Banks.
But stargazing wasn't on the agenda last summer. Two years prior, Faduma, then 17, had sustained severe burns over two-thirds of her body, after her husband doused her with kerosene and lit a match in a jealous fit. Charred flesh extended from her cheeks to her thighs, delivering pain to her every movement and breath.
In a YouTube video shot from her hospital bed in Kenya, Faduma gripped a polka dot sheet over her disfigured body. Tears streamed from downcast eyes as the Somali native and orphan pled softly for help.
Hussien Mohamed, director of Sagal Radio Services who works with Emory's Office of University-Community Partnerships (OUCP), was listening. What followed was a seven-month fundraising and petition drive to bring Faduma to the United States as a matter of medical necessity, involving OUCP, Emory doctors, officials from the U.S. Centers for Disease Control and Prevention and big hearts across metro Atlanta.
"When you hear her story and see the images of her, how can you turn your back and say, 'sorry?'" asks Sam Marie Engle, senior associate director of OUCP, who learned of Faduma's plight through Mohamed. An Ethiopian refugee, Mohamed shares the girl's last name but they are not related.
Through a partnership between OUCP, Sagal Radio and WRFG 89.3 FM, Mohamed coordinates the HEARMe (Health Education via Airwaves by and for Refugees) project. The collaboration, funded by a grant from the Robert Wood Johnson and Benton foundations, creates on-air, online and on-stage productions aimed at increasing health literacy among local East African refugees.
Chance encounter
Last Christmas, a radio listener alerted Mohamed to Faduma's video, filmed by a Dutch volunteer who works with refugees.
As Faduma recounted, she married her first husband in an arranged marriage at the age of 14. Shortly after, the man moved to the United States and divorced her.
She met her second husband when she caught him admiring her at a market.
Two years ago, Faduma answered a phone call that changed her life. She was busy preparing breakfast when her ex-husband rang to tell her that his sister had died.
Upon hearing the exchange, her second husband dumped kerosene on his wife, lit a match, and retreated to his bedroom to sleep while she screamed, she says.
After that, Faduma's memory becomes spotty. She recalls waking up in a hospital bed, attached to an oxygen mask. Her arms were fused to her sides, resembling barely outstretched wings of a bird. She rested them on cans when she slept, which wasn't often.
She spent the next year flitting in and out of the hospital, depending on how much money was available. While her doctors and nurses tried to lift her spirits, Faduma made amends with friends and waved goodbye.
"I never thought I was going to survive," she told Emory Report through Mohamed, who served as her interpreter.    
"She could have been my daughter, my mother, anyone I know," said a tearful Mohamed, a father of two.
A new life beckons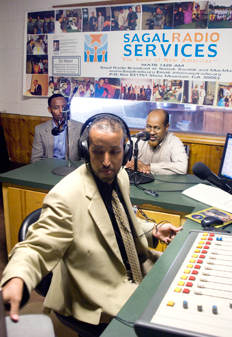 Mohamed decided to go door-to-door in his neighborhood, carrying Faduma's picture as he collected donations in a plastic bag. Within two days, he had raised $1,300.
He then contacted Engle, who reached out to her professional network at Emory and beyond, including Rachel Eidex, director of the CDC's Division of Global Migration and Quarantine Regional Field Program in Nairobi. Eidex visited Faduma in the hospital and her firsthand account helped expedite Faduma's application for refugee status to the U.S. State Department.
Meanwhile, Mohamed worked with the International Rescue Committee in Atlanta to complete his application to sponsor Faduma, assuming responsibility for furnishing her apartment, shuttling her to doctors' appointments and being someone she can rely on.
Faduma's birth father died when she was very young and her family never spoke of the matter. Her mother, a street sweeper, was killed by a roadside bomb in Mogadishu when Faduma was a teenager. She lost contact with her two sisters after the family became displaced during Somalia's bitter civil war.
Mohamed, a former refugee caseworker, could identify with Faduma's struggle. In 1982, he immigrated to Chicago from a resettlement camp in Somalia, leaving his family behind. Within a month, he was mugged and beaten by a gang of men.
"In Islamic custom, when people need help, you have to help them from wherever you are," he says.
Aid for Faduma poured in, including several thousand dollars raised by the Emory community and Oak Grove United Methodist Church in Decatur. The Center for Ethics established a drop-off center for toiletries and other essentials. A CORT furniture store in Atlanta donated a pillowtop mattress, dining room set and plush sofa. Strangers sent a flurry of cards.
Today, Faduma receives limited public assistance, including Medicaid and food stamps, which is set to expire early next year unless she is granted an extension. Emory students have offered to help teach her English (she speaks Somali and Swahili), and plan more fundraisers in the coming months, says Engle.
The effort dovetails with OUCP's mission of cultivating and sustaining a continuum of community-engaged learning, scholarship and service for students and faculty, Engle notes. "Welcoming New Americans" is a key strategic theme.
Surrounded by friends            
While Faduma misses the comfortable bustle and sounds of Kenya, she is adjusting to life in Clarkston. She enjoys watching Mexican soap operas, devouring chicken wings and visiting with a supportive network of local Somali women.
Recently, she reconnected with one sister, who is now living in Nairobi, after the Atlanta Journal-Constitution published a story on Faduma's ordeal. Her husband fled and was never prosecuted, she says.
Last week, Faduma underwent her first surgery in the United States at Grady Memorial Hospital. It was her eighth surgery to date, but she still panicked during the unfamiliar informed consent process, waving her goodbyes. When she reemerged, she could finally extend her left arm fully and requested more surgeries.
While she may smile and crack jokes, Faduma's scars run deep. She still won't touch the stove. Recently, she spoke with Emory Report in a dark room, tugging at her hijab.
She often studies her four pictures, remembering how she used to be.
Still, she is effusive in her gratitude for Mohamed and the others who worked tirelessly to bring her here.
"In America, people help you," she concludes.
Faduma plans to pay it forward. Though she has no formal education, she desires a career in medicine, assisting burn victims.
 "I'll be alright one day," she says. And, for a moment, the old Faduma and new Faduma are one.