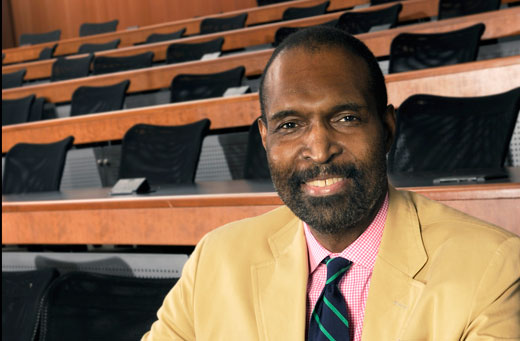 Rudolph P. Byrd
By Kim Urquhart
Rudolph P. Byrd, a renowned scholar of African American Studies who dedicated his career to exploring issues of identity, has died after a long battle with multiple myeloma. The Goodrich C. White Professor of American Studies and founding director of the James Weldon Johnson Institute passed away on Oct. 21 in Emory University Hospital. He was 58.
Educated at Lewis & Clark College and Yale University, Byrd came to Emory after appointments at Carleton College and the University of Delaware. Joining the faculty in 1991, his appointments included serving as director of the Department of African American Studies, which he led for nearly a decade.
Serving Emory for nearly 20 years, Byrd became an "institution builder," a concept he coined and a position he honored daily, wrote Provost Earl Lewis in a letter to the community.
"For many of us," wrote Lewis, "Rudolph was not only a symbol of dignity, propriety, determination, elegance and stamina, he embodied what it meant to live with purposefulness and grace, even to the very end."
In 2007, Byrd founded the James Weldon Johnson Institute, named after the pioneering figure in the modern civil rights movement and which under Byrd's leadership quickly became one of the premier sites in the nation for the study of the modern civil rights movement.
"Rudolph Byrd's record of scholarship, both academic and 'public,' speaks for itself.  That legacy will endure," says Calinda N. Lee '02PhD, associate director of the Johnson Institute.  "So, too, will the singularity of his presence on campus.  Rudolph was a force: innovative, determined and dignified; he was ambitious in the best way. We look forward to continuing the work that he started."
Byrd had dual appointments in the Graduate Institute of the Liberal Arts (ILA) and the Department of African American Studies. Colleagues remember Byrd as a cherished friend and mentor.
"He was a gentle and yet forceful presence at the ILA," recalled ILA Director Kevin Corrigan. In fact, said Corrigan, Byrd embodied the ILA's mandate: serving as an incubator and generator of ideas "who reached across the University and formed bridges and partnerships for the good of the whole area."
"Rudolph was indispensable, especially for his students," added Corrigan. "Teaching was his basic nature, and he was a master. He was supportive and challenging, and was prepared to walk beside them the extra mile if necessary to get the real excellence out of his students they didn't suspect they had themselves."
With his vision, energy, dedication to teaching and scholarship, and commitment to excellence, Byrd has helped bring to Emory outstanding faculty, grants, symposia and academic collaborations in Atlanta and beyond.
Most recently he helped inaugurate a partnership among Emory University, the Center for Civil and Human Rights and CNN, to create CNN Dialogues, a community forum program on contemporary civic issues.
 "Through these myriad efforts, Rudolph sought to fuse his abiding belief that universities helped build civil societies by engaging broadly and vigorously," wrote Lewis.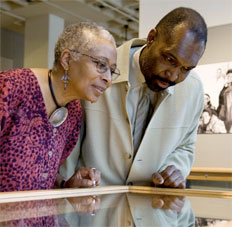 Byrd was founding co-chair of the Alice Walker Literary Society, and helped bring the Pulitzer Prize-winning author's archives to Emory. He edited the first book to be drawn from those archives, "The World Has Changed: Conversations with Alice Walker" (New Press, 2010). (Hear Byrd describe his collaboration with Alice Walker in an audio interview.)
Byrd has penned or edited several other books, his research interests spanning American and African American literature, folklore, philosophy, gender studies, sexuality and photography. Most recently, he co-edited with Harvard University's Henry Louis Gates Jr. the second edition of Jean Toomer's 1923 novel "Cane" (W.W. Norton, 2011) to critical acclaim.
Byrd's commitment to service includes key roles with the National Advisory Board for the Morehouse College Dr. Martin Luther King Jr. Collection and the United Negro College Fund/Andrew W. Mellon Programs. He helped bring the Mellon Mays Undergraduate Fellowship (MMUF) to Emory, aimed at increasing the number of minority students pursuing a doctorate with a shared commitment to eradicating racial disparities in higher education.
"All of us who work with the Mellon Summer Institute at Emory are blessed to have [Byrd's] imprint upon the program," said Donna Akiba Sullivan Harper '88PhD, Fuller E. Callaway Professor of English at Spelman College, an MMUF colleague. "Likewise, the James Weldon Johnson Institution bears [his] mark and leaves an enduring legacy."
At Emory's 2010 Commencement ceremony, Byrd received the Thomas Jefferson Award, the University's premier honor for significant service to the institution through personal activities, influence and leadership. His many other honors include the Governor's Award in the Humanities; the Dick Bathrick Activist Award from Men Stopping Violence of Atlanta; Andrew W. Mellon Fellowship at Harvard University; the Dorothy Danforth Compton Fellowship at Yale University; and Visiting Scholar at the Bellagio Study and Conference Center in Bellagio, Italy.
For Leslie Harris, Winship Distinguished Professor in the Humanities and associate professor of history and African American studies, meeting Byrd was the turning point in her career that led her to join Emory 16 years ago, "to be part of what he was building" here.
"He has truly left a legacy that will endure.  Through the faculty he attracted during his decade as director of African American Studies; through the many students whose lives he touched and changed forever; through his impact on his colleagues; and through the relationships he built between Emory and Atlanta, Rudolph was at the center of a fundamental reshaping of Emory's mission and sense of itself," said Harris, who worked with Byrd in shaping the new direction of the Johnson Institute for the Study of Race and Difference. "He will be missed; yet, his example is one that we can continue to live into."
Byrd is survived by his partner, Henry A. Leonard; sisters Meardis Wells of Denver and Andre Sloan of Henderson, Colo.; and brothers Michael Byrd of Lampasas, Texas, and Leonard Byrd of Aurora, Colo.
Memorial information
A resurrection mass will be held on Friday, Oct. 28 at 10 a.m. at the Cathedral of Christ The King, in Atlanta at 2699 Peachtree Rd. N.E.; 404.233.2145. A memorial service for the campus community is being planned for Thursday, Nov. 10 at 4 p.m. in Glenn Memorial.
In lieu of flowers, contributions may be made to the James Weldon Johnson Institute at Emory University or the Winship Cancer Institute at Emory University Hospital.