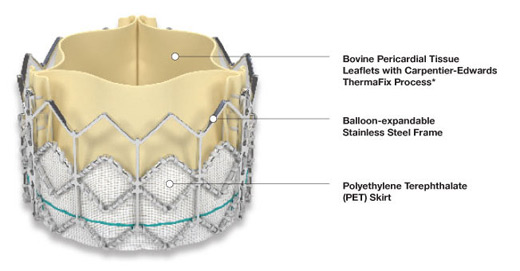 Emory University Hospital was the only site in Georgia to study transcatheter aortic valve implantation with the SAPIEN valve. (Image courtesy of Edwards Lifesciences).
By Jennifer Johnson
The FDA has given the green light to a new transcatheter heart valve, under study at Emory since 2007, and expected to revolutionize the treatment of severe aortic stenosis.
The device, called the SAPIEN valve and developed by Edwards Lifesciences, offers a new non-surgical treatment option for patients with failing aortic valves. Emory University Hospital was one of 23 sites nationwide, and the only one in Georgia, to study transcatheter aortic valve implantation (TAVI) with the SAPIEN valve.
Aortic stenosis is a life-threatening heart condition that affects tens of thousands of Americans each year when the aortic valve tightens or narrows, preventing blood from flowing through normally.
During the TAVI procedure, doctors create a small incision in the groin or chest wall and then feed the new valve made of cow heart tissue, mounted on a wire mesh on a catheter, and place it where the new valve is needed. This offers a non-invasive way for doctors to treat patients who are not candidates for traditional surgery.
"This is a major milestone in the treatment of heart disease," says Emory Heart & Vascular Center cardiologist Vasilis Babaliaros, associate professor of medicine at the School of Medicine.
"The development of this procedure and this FDA approval will allow us to help even more patients with valvular heart disease and could mean the difference between life or death for a countless number of patients who are too sick or weak to undergo open-heart surgery to replace their diseased valves."
Babaliaros traveled to France to learn the new lifesaving approach, training for several years alongside cardiologist Alain Cribier, who successfully implanted the world's first transcatheter heart valve in 2002. 
Babaliaros and his colleagues in interventional cardiology, including Peter Block, helped lead the Emory clinical trial, along with their cardiac surgical colleagues, Robert Guyton and Vinod Thourani.
The Emory team of researchers recently hit their own milestone when they performed their 200th TAVI procedure. During the study, Emory was one of the highest volume centers participating in the clinical trial.
Learn more and watch a video about transcatheter aortic valve implantation at Emory.