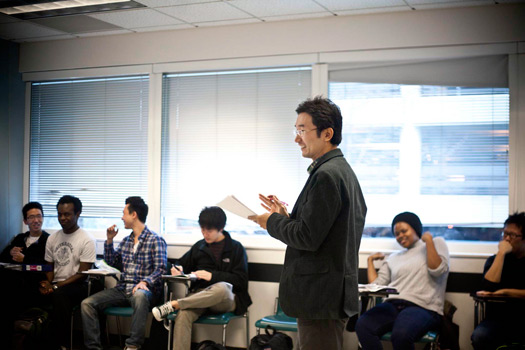 Bumyong Choi is Emory's first full-time permanent faculty member in Korean language.
By Elaine Justice
Emory junior Jennifer Song can't remember when she started speaking Korean. Born to Korean American parents, she was bilingual as a young child, but lost her Korean soon after starting preschool. At Emory this year she's taking the beginning Korean course with the aim of gaining fluency in the language spoken by her parents, and especially her grandparents.
"My goal is to write properly to my grandparents," says Song, who had already finished her Emory language requirement with Spanish courses, but decided to take Korean for personal reasons.
Korean is growing in popularity on Emory's campus, with student requests for Korean language coursework far exceeding seats in available classes. This fall semester alone 58 students are enrolled in introductory or intermediate courses taught by Bumyong Choi, hired this year as the first full-time permanent faculty member in Korean language.
Emory has had a long and important history with Korea. Although Korea had been incorporated into earlier coursework, the University had no formal program in Korean studies until the Department of Russian and East Asian Languages and Cultures (REALC) launched the program in Korean language and culture in fall 2007, says Juliette Stapanian Apkarian, department chair.
"We began the program as we did earlier with Russian, Japanese and Chinese studies, with language study," she says. "We felt that language was the foundation for a solid and meaningful step forward."
The department applied for and received a grant from the Academy of Korean Studies, and in fall 2007 was able to hire Visiting Lecturer Myungsook Bae, who taught the first Korean language courses. Then REALC received unprecedented renewal of the grant for an additional three years and a commitment at the end of the grant from Emory College of Arts and Sciences for a permanent hire in Korean language, which brought Choi to the faculty.
At the same time, REALC also sought to offer coursework in English on Korea. Mark Ravina, then chair of REALC and a member of the Department of History, was author of a four-year grant from the Korea Foundation to "seed" a tenure-stream position at Emory in Korean Studies. The grant was designed to fund visiting faculty members for the first two years to teach courses in modern Korean society and culture.
Su-Kyoung Hwang served as Emory's inaugural Korea Foundation Visiting Assistant Professor for 2010-11 and taught five courses. Sun-Chul Kim, the second Korea Foundation Visiting Assistant Professor, is teaching four courses this academic year. In addition, REALC is hosting Wan-Bom Lee, distinguished historian from the Academy of Korean Studies (AKS) while he conducts research at the Carter Presidential Library.
This year, according to the terms of the grant, the department opened a search for a permanent hire in a tenure-track position in Modern Korean Society and Culture, with the goal of welcoming a new colleague in fall 2012.
"We've gotten outstanding support from students and faculty, the large Korean-speaking community and the Korean Consulate in Atlanta," says Apkarian. "The prospects for deepening and broadening the study of Korea in creative and thoughtful ways here at Emory are enormous."
"When I found out about the long relationship between Korea and the university, it made the opportunity to teach at Emory even more interesting to me," says Choi, who holds a Ph.D. in Korean linguistics from the University of Hawaii at Manoa in Honolulu and has taught at the elite Korean Language Flagship Center there.
Although only beginning and intermediate Korean courses are offered this year, Choi says he anticipates a time when students will feel the need for advanced Korean courses.
Ethan Carlson, a senior majoring in history and East Asian Studies, agrees. He got a late start on Korean (he switched after three years of Japanese), but after participating in Emory's first study abroad program at Yonsei University this past summer, he plans to pursue a graduate degree in Korean history and gain fluency in the language as well.
"I'm trying to get into a summer program where I can possibly do intensive Korean language study and continue classes in graduate school," says Carlson. His goal is a career in government specializing in U.S.-Korea relations or in teaching.
For Song, a biology major, learning Korean is more about family. She's working on the letter to her grandparents, and says that after taking a recent practice test, "I'm a lot more comfortable with it."