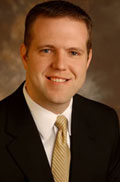 Michael Kloss
Michael Kloss
has been selected as one of five national finalists for the Organizational Event Planner of the Year in the Spotlight Awards.
Kloss is Emory's Chief of Protocol and Executive Director of the Office of University Events.
The Spotlight Awards are dedicated to recognizing "the best and the brightest" event professionals in the industry.

Cast your votes to help determine this year's recipients of the 2012 Spotlight Awards. Voting is open until Jan. 31.



 


•
Bali Pulendran, Jens Wrammert and Rafi Ahmed have earned the "Paper of the Year" award from the International Society for Vaccines.
The paper, published by the journal Nature Immunology, describes a method for predicting whether someone will produce high levels of antibodies against a flu shot, based on a scan of gene activity in the blood a few days after vaccination. The method is based on studies of human volunteers who were vaccinated during flu seasons in 2007, 2008 and 2009.
Pulendran, professor of pathology and laboratory medicine at the School of Medicine and Yerkes National Primate Research Center, was the senior author of the paper, "Systems biology of vaccination for seasonal influenza in humans."
Wrammert, assistant professor of microbiology and immunology in the School of Medicine, and Ahmed, director of the Emory Vaccine Center and a Georgia Research Alliance Eminent Scholar, were co-authors.
•
Steve Reba and Randee Waldman argued a case before the Georgia Supreme Court in January.
Reba is a postdoctoral fellow in the School of Law. Waldman is director of the Barton Juvenile Defender Clinic in the law school.
Reba and Waldman presented oral arguments before the Georgia high court in the appeal of  the case of their client, a 27-year-old Tift County man who was sentenced to life plus 20 years for rape when he was a 14-year-old boy.