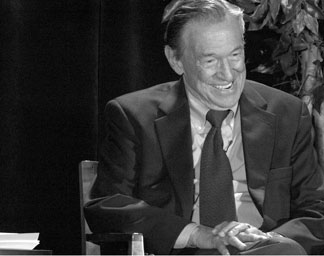 'Blues Brothers' talk about depression:
Mike Wallace, "60 Minutes" co-anchor and owner of 20 Emmy Awards, battled depression in the 1980s but with treatment was able to overcome it. He and two Pulitzer Prize winners who also have struggled with depression–humorist Art Buchwald and author William Styron–came to Atlanta to tell their stories at a panel discussion co-sponsored by the Department of Psychiatry and Behavioral Sciences, titled "An Evening with the Blues Brothers." "You can't sleep, you can't eat, and you're ashamed," Wallace told a crowd of 400. "That's the worst part because you don't want to tell anyone how you are feeling."
Photo by Kay Hinton.