Emory's new campus bookstore and admissions office continues construction on Oxford Road. The building is expected to be complete in late May, and occupied later this summer. 
When completed, the three story structure will house a Barnes & Noble Bookstore on the first and second level, a large Starbucks coffee shop on the first level, and a Barnes and Noble "spirit merchandise" sales area on the third level. The new undergraduate admissions office will also be on the third floor. 
A landscaped plaza, the Anne Register Jones Courtyard, will bridge the area between the new building and the B. Jones Building.  Recently named to honor the wife of Boisfeuillet Jones, the courtyard will be a large "green roof" over a new parking deck.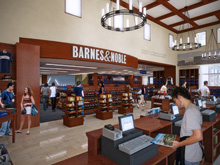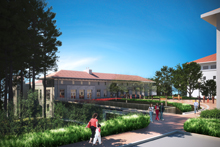 Interior and Exterior Renderings