By Margie Fishman
"Emory bears an inescapable legacy involved in the institution of slavery and its long and painful aftermath," President Jim Wagner said in his opening remarks during the "Slavery and the University: Histories and Legacies" conference. "These are facts of history. They should not be disputed or avoided."
Instead, the facts Wagner noted were examined and explored as scholars from more than 30 schools across the nation and beyond gathered at Emory for the first-ever conference examining the history and legacy of slavery's role in higher education.
Organized by Emory's Transforming Community Project (TCP), the Feb. 3-6 conference coincided with Emory's 175th anniversary and Founders Week celebration. This year also marks the 150th anniversary of the beginning of the U.S. Civil War, and the United Nations has declared 2011 the International Year for People of African Descent.
Charting the future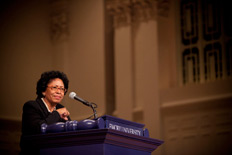 Brown University President Ruth Simmons delivered the keynote address. She shared Brown's three-year effort to document its 18th century links to slavery. A Brown University committee convened in 2003 to unearth the complex relationship between the New England slave trade and the founding of the university.
The committee's work culminated in a report released in 2006, which included several recommendations. Among them, Brown would create a center devoted to the study of slavery and injustice, raise a $10 million endowment to help educate children in Providence, R.I., public schools and rewrite its history in time for Brown's 250th anniversary in 2014.
"I think of this as a persistent effort to understand why we are who we are," Simmons said. "This rigorous review is absolutely essential." 
Sparking dialogue and change
Conference workshops featured representatives from various institutions, including Emory, Harvard University and the University of Alabama, who shared their experiences inspiring dialogue and change around issues of race and difference.
At a special Feb. 3 workshop, representatives from 21 universities learned from TCP staff how to use history to inspire dialogue and change around challenging issues of race and difference, and implement a program like Emory's on their own campus.
For five years, TCP has involved more than 1,500 faculty, staff and students in intense — and often uncomfortable— dialogues and research exposing layers of human difference and the foundational role of slavery in the creation of institutions around the globe. 
 "We broke open the silence around these histories," said TCP Director Leslie Harris, associate professor of history and African American studies. "It's not just about the history of slavery but also how it relates to contemporary racial issues."   
Recovering history
Emory has acknowledged slave labor's role in the development of the University, founded in 1836. John Emory, the Maryland bishop for whom the college was named, owned slaves, as did every antebellum president and most Emory faculty members and trustees at the time. While Emory did not own slaves, the college paid their white owners to "rent" them.
The executive committee of Emory's Board of Trustees recently adopted a formal statement of regret over the history of the University's involvement with slavery.
The conference concluded on Feb. 6 when attendees traveled to Oxford College, the historic original campus for a day of commemoration, reflection and celebration.
The programs, led by former Emory professor and current Brandeis University anthropologist Mark Auslander, introduced participants to the story of Catherine Andrew Boyd, also known as "Miss Kitty," a slave who was owned by Emory's first Board of Trustees chairman. In her honor, noted African American artist Lynn Marshall-Linnemeier completed a multimedia piece, "Unraveling Miss Catherine's Cloak," which was installed in Oxford College's Old Church.
A talking circle brought together residents of Oxford and Newton County, including descendants of enslaved and slave-owning families, to reflect on slavery and its legacies. Among those in attendance were Boyd's great-great-great granddaughters.