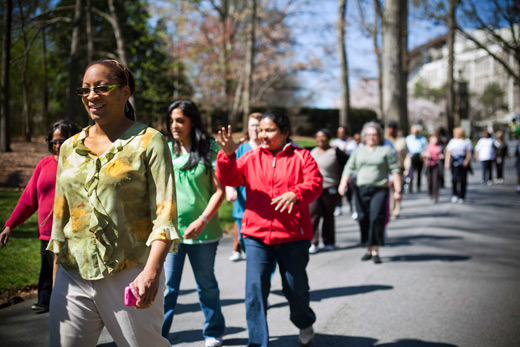 Spring walking groups are taking 1.2 to 1.6 mile walks in Lullwater Preserve.
By Leslie King
Spring walking groups organized by the Faculty Staff Assistance Program are already on the move.
And FSAP is also organizing participation for National Start Walking Day coming up April 6.
In the meantime, the spring walking groups are taking 1.2 to 1.6 mile walks every Thursday in Lullwater Preserve from 12:15  to 12:45 p.m. The last walk is on April 14 and those taking all five get a prize.
"One of the great advantages of walking in Lullwater is that it is away from the hustle and bustle of the rest of the Clifton corridor," says Melissa Morgan, wellness specialist at FSAP. "There is nothing but pedestrian traffic, so it is very peaceful, and the park itself has well-kept grounds and walking paths."
She adds: "Another advantage is that you can vary your walk by trying different routes within Lullwater—some routes are more difficult than others, and also offer different terrain.
"We do try different routes each week; however, people always have the option of sticking to the 'President's Loop' which is completely paved and the shortest route," Morgan says.
Participants are encouraged to bring water and to wear a suitable pair of shoes. But they do not have to be in a certain physical condition.
"We have walkers of varying fitness levels. We have some power walkers who like to push their pace and get a good workout, and we have others who like to take it at a more moderate pace and enjoy the scenery of the park," Morgan says.
Morgan notes some participants have committed to a regular walking program after joining one of the walking groups.
One is Wanda Francis, assistant in sponsored financial research.
"This is my third or fourth time participating in the Lullwater Walking Group," Francis says.  "Melissa and FSAP staff members are wonderful and help motivate you to get out and walk."
After participating in the group last year with a co-worker, Francis then started "Take A Break," "which allows our department to get away from our desks for 30-45 minutes and walk Lullwater."
Morgan says she gives all participants a walking calendar to track distance, number of steps or minutes walked. "I encourage them to walk on their own in addition to the walking group," she says.
"For the first time, I plan to collect their calendars at the end of the group and determine how many minutes were walked collectively in the month," Morgan says.
Numbers in the walking groups have grown every year, starting with 15 at the program's inception in 2008 to 65 this year.
"We have groups at Lullwater and at 1762 Clifton Road in the fall and spring, and a group at the Quad in the summer," Morgan says. "The spring group at Lullwater is by far the most popular."