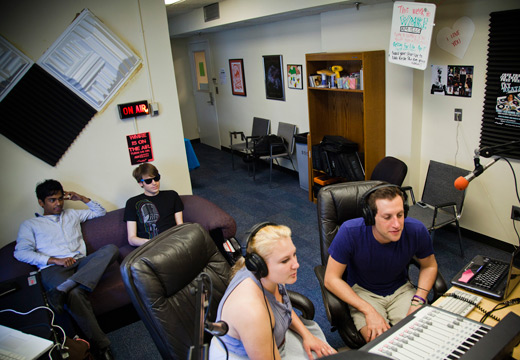 Emory's own radio station WMRE is now broadcasting at 1660 AM.
By April Rim
Emory's campus radio station WMRE has recently made the move to terrestrial radio after spending over 13 years airing online and through the local cable outlet.
Broadcasting on AM 1660, this new frequency allows the station to reach on-campus listeners.
"We knew we wouldn't get the funding that bigger schools like Georgia State and Georgia Tech have who broadcast to surrounding areas in Atlanta. We decided to go with a low power situation where we just broadcast to campus," Emory senior and WMRE tech director Logesh Dharmar says.
While the staff at WMRE is excited to be on the airwaves, they view it as merely a stepping-stone to reach the ultimate goal of acquiring a larger FM frequency.
Bigger reach planned
Emory senior and WMRE general manager Geoff Schorkopf talks about the station's future goals to reach past the Emory community and include residents living in Decatur.
"We want the feel of an actual radio station and to reach a larger audience. I think that AM 1660 is a good step to getting the student voices of Emory heard, but there is a FM frequency in Decatur that isn't being used, which would give us a 5-10 mile radius," Schorkopf says.
Schorkopf notes that acquiring a FM frequency comes with more restrictions that would require the station to pay higher royalty fees to artists, have stricter regulations on programming, and have better trained disc jockeys.
Kris Cole, Emory junior and WMRE programming director, says that the move to AM frequency has inspired the station to increase the quality of the programs.
"We're providing more DJ training to make sure everyone in the studio knows how to use the equipment. We are growing as a station and we have more DJs than ever right now. Most of them had to take one-hour shows just because we had so many apply," Cole says.
Diversity reigns
Located on the fifth floor in Dobbs University Center, WMRE bustles with people and music. The studio is colorfully decorated with posters, pictures and text that represent the different views of Emory students. 
This diversity is reflected in the types of programs that are aired. To keep listeners updated with campus news, news briefs adapted from The Emory Wheel are announced several times a week.
For entertainment, one of the more popular programs is "ATL Empire," airing on Wednesdays at 6 p.m., which brings in local hip-hop artists from around Atlanta.
In order to stay current and provide new material, WMRE looks for new DJs with creative ideas for shows every semester.
"I just want people to know that if they're looking for a creative outlet and want to broadcast publicly, [WMRE] is their source on campus. We have plenty of open slots and the shows are very open-ended," Dharmar says.
For more information and the schedule of programs, go to WMRE's website.