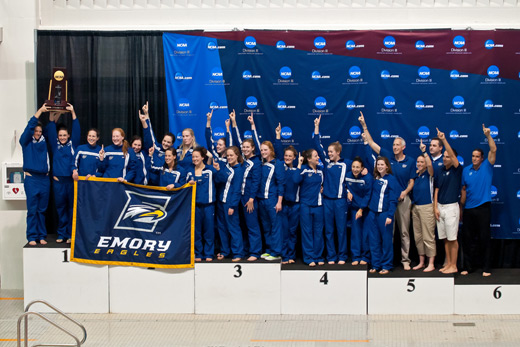 The Emory women's swimming and diving team capped off a four-day run at the NCAA Division III Swimming and Diving Championships, winning their second consecutive national championship.
It marks the fourth national championship in the history of Emory's women's swimming and diving program, and the second time that the team has gone back-to-back.
It is also the 12th NCAA Division III team championship in the history of Emory Athletics. 
The Emory women ran away with the championship, scoring 614 points during the meet to finish ahead of second-place Denison University (428 points) and third-place Williams College (382 points). 
Emory's Jon Howell was named the NCAA Division III Women's Swimming Coach of the Year, the fourth time he has received the honor.
Swimmers and their winning events and honors were:
• Emory senior April Whitley won the 200-yard breaststroke with a school-record time of 2:14.62, capping her fourth national championship;
• Senior Katie Mroz earned an all-America honor in the event;
• Junior Jennifer Aronoff claimed an honorable mention;
• Junior Anne Culpepper won the 200-yard backstroke and set a school record of 1:58.62;
• Sophomore Ann Wolber, fresman Suzanne Lemberg, junior Claire Pavlak and Culpepper won the 400-yard freestyle relay;
• Pavlak finished eighth in the 100-yard freestyle, for an all-America honor in the 100-yard freestyle
• Wolber won an honorable mention with a ninth-place finish;
• Freshman Sadie Nennig, junior Whitley Taylor and sophomore Taryn Lushinsky earned all-America honors in the 200-yard backstroke; sophomore Jacqueline Schneider received an honorable mention; and
• Liz Horvat won a second-place finish in the 1,650-yard freestyle, for a third individual all-America honor of the meet.
Emory won six national championships during the meet, three in individual events and three in relays, besting the previous school record of five titles, set in 2009. 
The women's swimming and diving team has now compiled 32 National Championships, 25 in individual events and seven in relays.  Emory added on 28 all-America certificates during the meet and 19 all-America honorable mention finishes.
— From staff reports