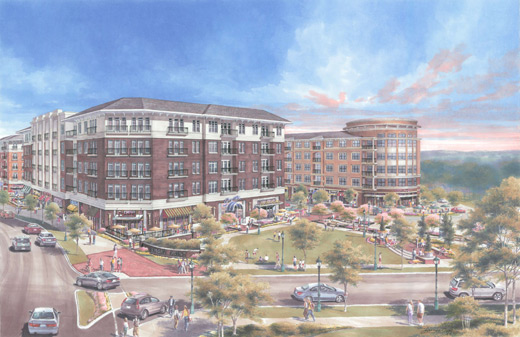 An artist rendering of the Emory Point development.
By David Payne
Beginning this summer, the northern edge of Emory's campus will take new form as construction gets under way at Emory Point.  The project, a mixed-use development by Cousins Properties, will transform the fenced area next to the Emory Inn, across from the Centers for Disease Control and Prevention. 
The site was originally planned for development in 2008 and 2009, but plans were put on hold following the economic downturn.
"Our first phase of development will include 440 luxury apartments, and approximately 80,000 square feet of retail space," says Jason Frost, vice president for development, Cousins Properties, Inc.  "The first phase generally is the same as contemplated before the downturn, but now has a slightly smaller retail space than was originally planned, and fewer housing units."
Gables Residential will manage the apartments.
Originally, the first phase was to be a mix of apartments and condominiums, but current market conditions are not conducive to building condos, according to Frost.  Two future phases may include condominiums and apartments, as well as expanded retail.
Potential residents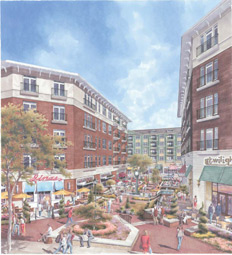 Cousins' goal is to market these apartments to employees or graduate students who work at the large employers along Clifton Road, including Emory University, Emory Healthcare, the CDC, Ben Franklin Academy, Children's Healthcare of Atlanta and Druid Hills High School.
"Ideally, we would like to bring people who work on Clifton Road closer to their jobs, so that they can work, bicycle or take the Cliff shuttle," says Frost.
Retail tenants will be announced as they are confirmed, but approximately 30 percent of the space will be occupied by dining establishments, with a drug store and other services filling out the rest of the area.
Access to Emory Point will be via the existing traffic intersections at the Emory Conference Center Hotel and at the main CDC entrance.  An additional right-turn-only access point will also be added between the two intersections. 
The streetscapes will include trees, café-style seating, and will follow the Urban Design Guidelines developed by Emory and the Clifton Community Partnership.  The buildings will have retail on the street level, with four floors of apartments above the retail.
"This project will expand the campus vibrancy by bringing new housing and retail options designed to foster intellectual and social interactions at the campus edges," says Mike Mandl, executive vice president for finance and administration.  "We are excited about Emory Point and glad to see it progressing.  This project will add a much needed dynamic element to the northern edge of campus."
"Emory Point was designed to be a sustainable community, a place where people can live, work, and play, all on the Emory campus.  And, the 25 acres of densely wooded land behind the development will be protected as undevelopable under Emory's land classification plan and the zoning adopted for Emory Point," says Mandl.