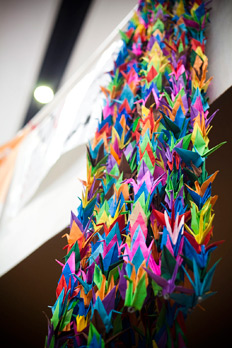 One month after Japan suffered a devastating earthquake and tsunami, an outpouring of support among the Emory community has raised more than $13,000 for the American Red Cross' Japan Earthquake and Pacific Tsunami fund.
The campaign, launched by several student service organizations with support from the Office of Multicultural Programs and Services (OMPS), involved setting up donation booths around campus and at special events.
Emory's Japanese Student Association (JSA) raised more than $2,300 of the total, creating origami cranes through its "1,000 Prayers through 1,000 Cranes" program. A symbol of prayers for disaster relief, the rainbow blanket of cranes is now on display at the Dobbs University Center and may eventually be mailed to affected villages in Japan. Organizers chose the cranes as a fundraising vehicle because, according to Japanese legend, whoever folds 1,000 cranes will be granted a wish.
"When this disaster happened, I just knew that the students would pull together," says OMPS Director Donna Wong. "Emory has so many connections with Japan through international students and visiting scholars. We're very empathetic to the enormous destruction in Japan and touched by the collective efforts at Emory to assist."
Joining the JSA in the effort were Students in Alliance for Asian-American Concerns, the Asian-interest sorority Delta Phi Lambda, the Alpha Phi Omega co-ed service fraternity, Emory China Care and Volunteer Emory.
Volunteers organized booths in high-traffic areas, including the Cox Hall bridge, Cannon Chapel and White Hall, drawing diverse participation from students, faculty, staff, Emory Healthcare patients and the larger community. They also raised funds through the annual Culturefest and a social event sponsored by the Indian Cultural Exchange.
"This disaster touched everyone at Emory," says College junior Yan Chen, president of Students in Alliance for Asian-American Concerns. "We all wanted to do something. We just needed a way to come together."
Seven Japanese Goizueta MBA students raised nearly $2,700 at a charity event at the business school, featuring sushi rolls, sumo wrestling and traditional Japanese garb.
"Japan has the power to recover from this disaster, but this time it's not such an easy road," says  Atsushi Nomura, a second-year MBA student. "It's better to take some action, even if it's a little contribution."
Online donations are still being accepted at www.firstgiving.com under the Emory-Goizueta Business School Japanese Community group. Wong, who coordinated with the different student groups, notes that the Emory community expressed similar support after a devastating tsunami hit Sri Lanka in 2004 and the Haiti earthquake in 2010.
Inspiration in Tokyo
College senior and JSA organizer Yuri Madenokoji spent her spring break in Tokyo, where she was bombarded daily with terrifying warnings about radiation from the nuclear crisis less than 100 miles away.
Madenokoji was in the Tokyo business district prospecting for jobs after graduation when she felt the first tremor on March 11. Growing up in Japan, she had experienced more than 100 earthquakes, but few that lasted for a full minute and caused her to lose her balance.
Surrounded by skyscrapers, she ducked into an office complex. Within an hour, all the shelves had been ransacked  at a nearby grocery store and a line snaked around the block of a gas station.
With no transportation or working cell phone, Madenokoji spent the next 13 hours sharing coffee, snacks and conversation with a collection of displaced strangers who comforted one another. Five aftershocks later, she returned home to find her family rattled but healthy.
"I never felt strongly about my country," she admits. "But when I saw how everything collapsed, I decided to be part of the reconstruction effort."
Madenokoji returned to Emory and immediately contacted the JSA about organizing a fundraiser.
"It's such a bad incident, but at the same time I saw the good in people," she says. "You can't do much against nature, but we have to help each other overcome."