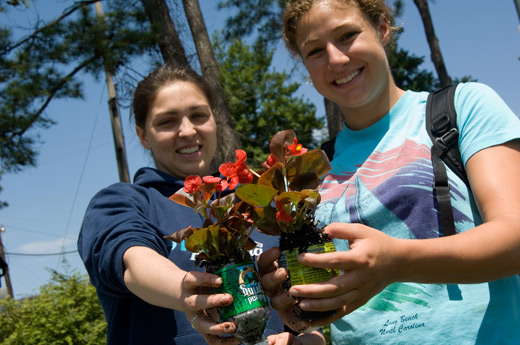 Events on campus will raise awareness and celebrate environmental topics of interest.
By Kelly Gray
Around the world, Earth Day is celebrated on one day, April 22. At Emory, Earth Day is observed during a month-long experience christened "Earth Month." Throughout April, Emory's Office of Sustainability Initiatives, Emory Dining, Emory Recycles and many other groups invite staff, students and neighbors to events on campus to raise awareness and celebrate environmental topics of interest.
Friday, April 1
Wonderful Wednesday
11 a.m. to 1 p.m. Asbury Circle
Thursday, April 7
Lecture: "Origin of Source Revealed"
7 – 8 p.m., Carlos Museum
George Trakas, an internationally renowned sculptor, will discuss Source Route, a site sculpture he completed in Baker Woodlands in 1979. He will discuss the sculpture in the context of the evolution of his outdoor works and their relationship with the elements of nature.
Related Video: Emory History Minutes: Source Route.
Wednesday, April 13
Top Sustainable Chef competition: Round 1
11 a.m. to 1 p.m., Asbury Circle
This cooking challenge invites students to prepare a dish and incorporate a secret and sustainable ingredient. 
Monday-Friday, April 18-22
Personal Document Shredding: Emory and CDC Employees
7 a.m. to 5 p.m., Briarcliff Building A lobby
Bring personal documents for confidential shredding.
Thursday, April 21
Top Sustainable Chef: Championship Round
1-3 p.m., Asbury Circle
Winners of Round 1 will face off in a competition, paired with professional chefs, for the final round of competition for the title of "Emory's Top Sustainable Chef."
Friday, April 22
Earth Day Lunch
4:30-9 p.m., Dobbs University Center
Earth Day Block Party
4:30 -7:30 p.m., Asbury Circle
The block party will feature performances, booths and many other activities to celebrate Earth Day.
Tuesday, April 26
Lecture: "Checkerspots and Canoes: Why Research Shouldn't be 'Siloed'"
4 p.m., School of Medicine, Room 120
Paul Ehrlich will give the Biology Undergraduate Research Symposium keynote address.
The Bing Professor of Population Studies and president of the Center for Conservation Biology at Stanford University, Ehrlich is a prominent voice for environmental issues in public policy.
Wednesday, April 27
Lecture: "Humanity on a Tightrope: The Environmental Threat and What Could be Done About It,"
Paul Ehrlich. 1 p.m., Claudia Nance Rollins Auditorium
Ongoing Events
Composting
Emory Dining has made a commitment to Emory's sustainability goal of diverting 95 percent of food waste from Georgia landfills by composting at Cox Dining Hall.
Electronic Waste Recycling
For the entire month, boxes will be available for electronic waste drop-off. From 8 a.m. to 5 p.m. at Briarcliff Building A, lobby; and in the Surplus Showroom on the Briarcliff Campus. (Drop-off in the Surplus Showroom is available during Surplus hours only.)
Energy Round Up: Small Electronics Collection
Unplug and donate small appliances. By donating nonessential electronic appliances, you help support Emory's goal of reducing energy use by 25 percent per square foot by 2015 and reducing Emory's carbon dioxide emissions. Small electronics can be brought to the following building's loading docks:
•    1599 Clifton Road
•    Whitehead Biomedical Research Building
•    Campus Services Buildings A & E
Stop Junk Mail
Emory Mail Services is sponsoring a campaign to decrease the incoming volume of junk mail. Visit the mail services website and select "Stop Junk Mail" for details.
For the complete list of events, visit the Office of Sustainability Initiatives online calendar.