At 11:06 a.m. on April 25, Emory Healthcare Web and social media specialist Morgan Griffith received a message via Twitter from Matthew Browning, who was playing a critical role in helping his wife and family get through a crisis situation.
The grandmother of Browning's wife was suffering from a host of dangerous medical issues, including most urgently, a ruptured aorta. Being in a rural area in South Georgia, no local hospitals were equipped to accept or care for a patient with such complex needs. Dialing 911 was not an option since the patient was already under care of health professionals at a local hospital.
With time running out, and after watching hospital workers make several unsuccessful phone calls to get help, Browning took to his extensive follower base on Twitter, embarking on a new journey between patient, concerned family member, a social media manager, and a hospital admissions unit.
Browning's first tweet read: "@emoryhealthcare (Emory Healthcare Twitter account address) NEED HELP NOW!! Grandma w/ RUPTURED AORTA needs Card Surgeon/OR ASAP, STAT! Can you accept Life Flight NOW!!?"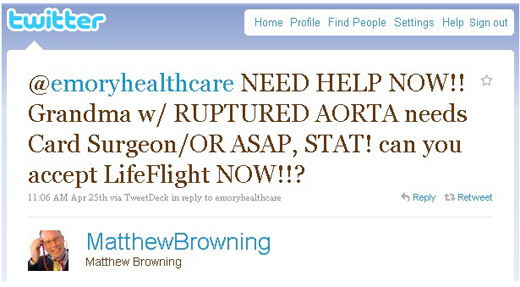 "While much of our social media is proactive and conversational, when we receive a tweet like Matthew's, everything changes. We must immediately throw out the process flowcharts, remove all barriers and act. Instantaneously, things shift into high gear and a number of contacts in a variety of departments are contacted to get the right information as quickly as possible," says Griffith. "Within minutes, we tweeted back to Matthew, '@MatthewBrowning Matthew: please either call 911 or have your grandma's doctor call our transfer service to get immediate help at 404-XXX-XXXX.'
At this point, the most important thing was giving Browning information he could act on. When using Twitter, messages can only be 140 characters, so it was critical to include the most necessary information for him to get immediate assistance, explained Griffith.
Four minutes later, at 11:21 a.m., Browning responded, "@emoryhealthcare: We are doing that! She is in small South Georgia hosp right now- but needs MAJOR help- We are calling, thanks!"
Griffith responded "@MatthewBrowning keep us posted & please let us know if there is anything else we can do to help. We're keeping you both in our thoughts." One minute later, Browning responded back "@hospitalpolicygrp, @emoryhealthcare: Thank you for your help!" Followed by: "@emoryhealthcare:  Look for STAT Transfer from South Georgia, accept her if able and we'll see you soon. Thanks!"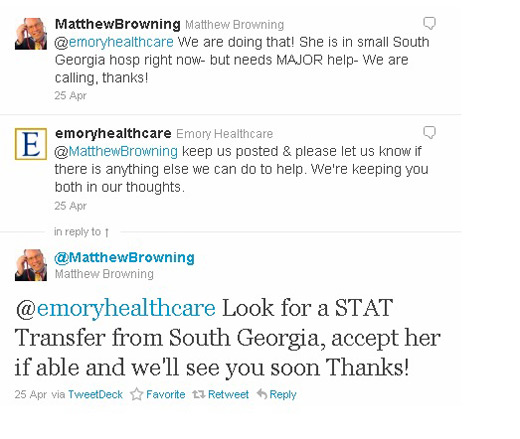 Sixteen minutes later, at 11:41 a.m., the patient was on a helicopter to Emory University Hospital in Atlanta.
"@emoryhealthcare:  Thank you for accepting her. She is on the Life Flight to you now- Bless you all and Thank you!!"
Ultimately, the patient would not survive her traumatic illness, but, according to both Griffith and Browning, the experience is now a textbook lesson – proving that social media technology can offer new life-saving opportunities not in existence just a few short years ago.
"There has existed an inherent conflict between health care and social media for quite some time. Health care is innately private, secure and confidential, and that makes people worry when coupled with such a fast, open and uncensored dialogue as the one taking place in the social media space," says Griffith. "On that incredible Monday, we got a glimpse of the potential these two realms have to be an extremely useful, successful and potentially life-saving duo. It was a truly moving and powerful experience to be a part of."
Although there have been other cases involving social media and its use in emergencies, Griffith says this is the first time, to her knowledge, that social media has helped in providing emergency medical care to a patient in urgent need.
Several follow-up phone conversations with Browning, who also works in the health care industry, provided some additional background details on what was happening behind social media and hospital walls, making it clear to Griffith that a closer examination of the experience was necessary. Hoping to engage a broader audience and spark a dialogue around emergency access and social media, Griffith published a two-part case study on Emory Healthcare's "Advancing Your Health" blog.
The human side of a big issue
"It was important that we not take away from the human side of the story. We wanted people to really understand how the exchange took place and get familiar with the interaction before delving into a more serious discussion of future implications and the power social media can have on the health care space," Griffith notes.
"I was so touched by the experience and my conversations with Matthew. It was amazing to hear his perspective and learn more about what led him to ultimately seek help over Twitter. It was important to me that we captured the sense of hopelessness he felt and the triggers that led him to use the Web to get help before evaluating potential solutions for similar cases in the future," she continues.
"What it really boiled down to was a lack of appropriate means to get access to emergency care on a regional level. That has to be considered in the future, not just by Emory and individual organizations, but by the health care industry on the whole."