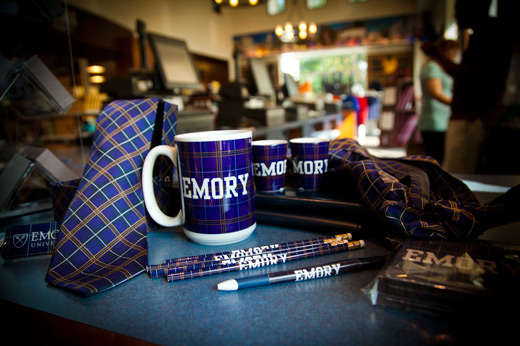 The pattern recently debuted at the Emory Barnes & Noble bookstore with bowties, mugs and more.
By Margie Fishman
Emory's new tartan is making a fashion statement, while honoring the University's sense of community, sister relationship with the University of St. Andrews and decades-long history of kilt-clad bagpipers performing at Commencement.
Weaving together the University's colors of royal blue and gold, the tartan also boasts bands of green for the pines of Georgia. White stripes serve as a tribute to the University's Methodist heritage and represent purity in the search for truth and knowledge.
The pattern debuted in March at the Emory Barnes & Noble bookstore with 30 tartan-inspired silk bowties. (They sold out within a month.) Scarves, ceramic mugs, shot glasses, coasters, pencils, key chains and license plates soon followed.
"It's been a huge success. People love it," says bookstore director Myra Haley.
President Jim Wagner sported a tartan tie during a recent trip to Scotland to celebrate graduation and the 600th anniversary of the University of St Andrews.
 "It's a new tradition that hopefully will carry on for years," says Scott Swann, a project manager for University Technology Services, an avid Scotsman and Emory Tartan Committee chairman.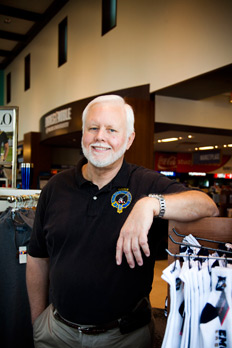 In late 2008, Swann approached the University's Traditions and History Committee about developing a distinctive tartan for Emory. A woolen or worsted cloth woven with stripes of different colors or widths crossing at right angles, the tartan is believed to have originated in ancient Celtic cultures in central Europe from 400 to 100 B.C., before migrating to the Scottish Highlands in the 16th century as a clan or family emblem. (For a time, wearing a tartan could get a man killed or imprisoned by English authorities.)
Today, tartans are embraced by Scots and non-Scots alike as a symbol of affiliation. Families, companies, military branches and universities, including the University of Georgia, have all commissioned tartans. Even a brand of barbecue sauce is reportedly registered with the Scottish Tartans Authority, a national repository of many thousands of tartan designs, including Emory's.
"It was unanimous [by our committee] that this would be appropriate and fitting," says Traditions and History Committee Chairman Gary Hauk, vice president and deputy to the president, who bought the first Emory tartan bowtie.
"This note of Scottish heritage fits in with a significant part of our Commencement and Convocation tradition."
Swann and a committee of faculty, staff and students spent two years creating the tartan design, in collaboration with the director of the Scottish Tartans Museum in Franklin, N.C. At one point, they considered using the stripes to represent Emory's campuses and professional schools, but were worried that the tartan would become outdated. In the end, they settled on an aesthetically pleasing design. 
At the bookstore, Haley has been working with vendors to extend the line to pennants, flags, banners, and to post a history of the tartan on product displays. A sweatshirt, with the letters of Emory decked out in tartan plaid, is planned in time for Homecoming.
Currently the tartan is only available at the bookstore, but merchandise will be added online at emory.bncollege.com this fall. 
Emory's tartan is expected to make an appearance at Commencement next year, although what form it will take remains to be seen. Swann would like to see the Atlanta Pipe Band wearing Emory-branded tartan kilts as they lead the processional. At an estimated cost of $500 per kilt, however, a banner might do just fine.
It is also unclear whether kilts will be available for sale to the campus community, even though Swann thinks they have a built-in market with uninhibited undergraduates.   
Notes Haley: "I have access to 1,000 vendors, and not one of them can make a kilt."