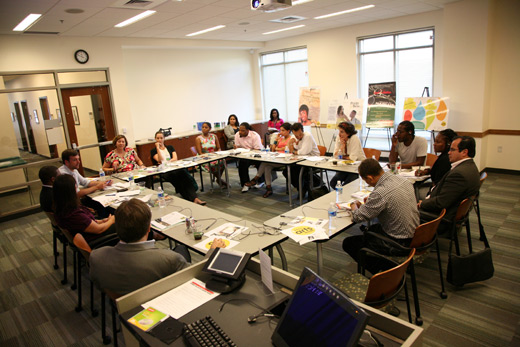 Ethics Center leaders and their community partners met with visitors from Colombia on July 7 to discuss the arts.  (Photo by Carlton Mackey)
By Mashaun D. Simon
Emory Center for Ethics recently played host to half a dozen delegates from Colombia, a group of artists and advocates visiting art and related institutions in the United States.
Their focus was to get a better understanding of promotion and diversity in the arts and bridging culture, cultural preservations in the arts and access to the arts.
During the two-hour visit on July 7, Ethics Center leaders and their community partners provided the delegates with an overview of Emory's Ethics & the Arts Initiative. The initiative is designed to create dialogue and debate around the arts and its ethical implications, and to partner with organizations in Atlanta to show how art challenges perspectives.
"To us, ethics isn't just about right or wrong. Ethics are about our deepest held values," said Center for Ethics Director Paul Root Wolpe. "Ethics are fundamentally tied to how we view the world. The arts are a very important vehicle for ethical exploration."
The group's visit was coordinated by the Georgia Council for International Visitors. Carlton D. Mackey, who chairs the Ethics & the Arts Initiative, expressed his delight that the international visitors selected Emory's Center of Ethics as one of their stops.
"It is through the arts and together where we can address some of our major issues," he said.
Mackey explained the Center's major reasons for establishing the Ethics & Arts Initiative in 2010:  "To ignite the imagination of 21st century leaders and to carry on the overall mission of this place." He added: "Art is not something we do on the side. We utilize art more effectively to enhance the ongoing things we do."
The Ethics & Arts Initiative includes creativity and arts programming, a film series, rotating art exhibits and a permanent art collection, a multidisciplinary student art organization and more.
Melba Escobar, from Colombia's Ministry of Culture, shared with the group some of the challenges Colombia is facing, which has been the motivation for the trip.
"Our country is going through a process where we are becoming more aware of diversity," Escobar said. "Culture and arts are a way of integration. We have to engage the community, which is something we do not always do. You all have come a long way."
Through a series of programs and discussions, the Ethics & the Arts Initiative partners with community organizations to show the relationship between ethics and the arts. Representatives from the Atlanta Opera, the Alliance Theatre, WonderRoot and the Atlanta Music Project – four of Emory's Ethics & the Arts community partners – shared information regarding their partnerships with the initiative as well as a few highlights about their organizations.
One of the benefits to these partnerships is the exposure it allows those who would not normally be exposed to the arts, Mackey said.
"When people have the opportunity to encounter art, there is a transformation that occurs within them," he said. "Art challenges and opens up the mind to possibilities."