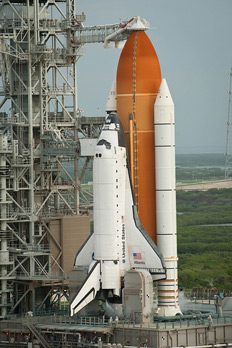 As Atlantis touched down last Thursday, closing out NASA's 30-year space shuttle program, students at Emory's National Debate Institute (ENDI) were arguing rapid-fire the various merits and pitfalls of continuing space exploration.
This year, the National Forensic League, a speech and debate honor society, and the National Debate Coaches Association selected the future of U.S. space exploration as a theme for high school debate clubs and camps nationwide.
A centerpiece of Emory's much-lauded Barkley Forum, ENDI was founded in the early 1970s and ranks among the most popular summer debate programs in the country. The institute trains public and private high school students on how to mine databases, organize mounds of information, construct airtight arguments and work with people who have different opinions.  
A total of 130 students participated in four programs this year, ranging from two to six weeks. Many came from the Urban Debate Leagues (UDL), a partnership between the Barkley Forum and Atlanta Public Schools that has grown into a national urban education reform movement.
While at Emory, the high school students live on campus and follow a rigorous schedule. To build their arguments, they log untold hours in the library, researching asteroid mining, space missile defense and the financial burden of space exploration.
This year, they watched the Atlantis shuttle launch on television (for many students, it was their first time witnessing such an event). They also lunched with President Jim Wagner and met with NASA's chief financial officer, Susan Kroskey '79C. As a student, Kroskey attended ENDI and was a nationally-ranked debater for Emory.
This is the third time space exploration has been debated at Emory. Not surprisingly, arguments about limited resources and population growth are still applicable today.
In 1978, Emory students were the first to advocate for space exploration in intercollegiate competition.
"The argument we made was that space-based satellite solar power stations would provide clean, efficient and cheap energy," recalls Melissa Maxcy Wade, now executive director of forensics at Emory.
ENDI also debated space exploration in the early 1980s, which led Wade to write an article for a NASA publication about the use of space research in intercollegiate and high school debate.
For this year's cohort, all the painstaking research and practice sessions culminated in the final tournament, which concluded July 22. Teamed up in pairs, the students engaged in six high-energy rounds to present the most convincing case. The winners were Ben Dean and Holden Choi, both rising seniors at Grady High School in Atlanta.
"For every single example in favor of the U.S. increasing space exploration, students have to be prepared to argue the negative," says ENDI Director James Herndon. "They learn to disagree with people without making it personal." 
Hayley Hopkins, a rising junior at Dunwoody High School, participated in ENDI this year to learn the research and analytical techniques necessary to succeed in national competition. Although they battle (diplomatically) on the podium, the students also exhibit camaraderie and mutual respect, she says.
"It's highly competitive but it's a close-knit community," she says. "We're all very nice to one another."