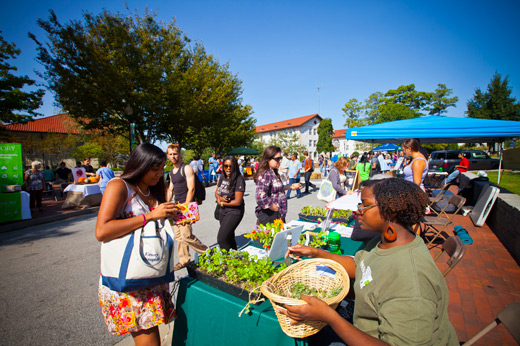 Amanda Fernandes buys cilantro at this year's Sustainable Food Fair.
By Kelly Gray
Participants at Emory's sixth annual Sustainable Food Fair held Sept. 30 enjoyed a day filled with music, community, education and most importantly, food at the nearly 40 booths on site.
Organized by 18 anthropology students, the Office of Sustainability Initiatives and Emory Dining, "this year's fair was planned to educate the Emory community about the benefits of sustainable, local foods by showcasing the remarkable individuals and organizations involved in that food system," said Peggy Barlett, Goodrich C. White Professor of Anthropology and chair of the Sustainable Food Committee. 
Local chefs who feature farm to table cuisine dished up samples ranging from Carolina golden rice to "hoppin' john" with pink-eyed peas and more.
Farmers were also on hand to talk about supporting the local food movement and to offer items like homemade jams and range-free eggs.
Students dressed in bee, cow and tomato costumes "provided education as to what foods are in season in Georgia, the benefits of grassfed beef and which fish and seafood varieties are sustainably harvested," according to Barlett. Free samples of two rare Appalachian apple varieties were given out.
Contests and activities challenged participants to pick out the dirty dozen fruits and vegetables that carry the heaviest pesticide load and to assemble a sustainable lunch from a variety of foods. At the Eggs Rated table, an egg carton sculpture and a quiz helped fair goers learn about what egg carton labels really mean.
"It's a fun and different way to learn more about sustainability initiatives applicable to daily life," added Barlett.
Sustainability Innovators Honored at Food Fair
At the fair, Emory's Office of Sustainability Initiatives celebrated those who have contributed time, energy and effort to further Emory's vision of a sustainable campus. 
The Robert S. Hascall Sustainability Innovator Award was presented to faculty, staff and students who contributed to sustainability education, waste reduction, energy conservation, local food and climate change awareness. This year's recipients include:
• Vialla Hartfield-Mendez, Spanish and Portuguese professor, for leading sustainability-themed engaged learning; 
• Net Impact Chapter, students, for their sustainability leadership at Goizueta Business School;
• David Pugh, associate administrator for Emory hospitals, for his efforts to green Emory's hospitals;
• Judith Robertson, staff member, for her educational garden efforts; and
• Brent Zern, Campus Services staff member, for leading development of Emory's greenhouse gas emissions inventories and feasibility study for a proposed Climate Action Plan.
Honored as sustainability innovators were:
• Marlin R. Gottschalk '72C, '76G, '81G, former director of the Georgia Department of Natural Resource's Sustainability Division, received the award posthumously for his service to Georgia's Clean Air Campaign and Emory's Green Networking Night.  His wife, Kathy Gottschalk, and son, Russell Gottschalk – also Emory alums – accepted the award at a special reception on Sept. 23.  
• Lisa Davis, Campus Services staff member, for using best practices in Building and Residential Services in collecting recyclables and furthering Emory's sustainability initiatives.
The Robert S. Hascall Sustainability Innovator Award is named after the retired leader of Emory's Campus Services department who was a champion of Emory's sustainability initiatives, in particular its sustainable design and green building practices.
View past recipients and their efforts on the Office of Sustainability Initiatives website.
Students share their experiences during this year's Sustainability Food Fair: