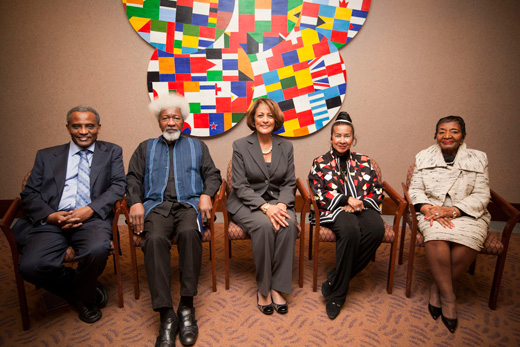 2011 Johnson Medalists are (left to right) Abdullahi Ahmed An-Na'im, Wole Soyinka, Linda Gulley (who received the award on behalf of Hank Aaron), Xernona Clayton and Willie Christine King Farris.
By Margie Fishman
In a moving but bittersweet ceremony, five champions of civil and human rights were honored Nov. 8 by Emory's James Weldon Johnson Institute for the Study of Race and Difference.
The 2011 recipients of the James Weldon Johnson Medal are: Legendary baseball player Hank Aaron; Charles Howard Candler Professor of Law and director of the Center for International and Comparative Law Abdullahi Ahmed An-Na'im; Journalist Xernona Clayton, founder, president and CEO of the Trumpet Awards Foundation, Inc.; Willie Christine King Farris, the only living sibling of Martin Luther King, Jr., who is associate professor of education and the director of the Learning Resources Center at Spelman College; and Nobel Prize for Literature winner Wole Soyinka.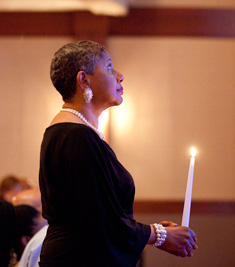 Enduring legacy
The medals, awarded since 1992, honor the legacy and accomplishments of Johnson, the acclaimed writer, journalist, civil rights leader, musician and humanitarian.
The medal ceremony, a signature program of the Johnson Institute, included a slideshow tribute to Johnson Institute founding director Rudolph P. Byrd. The Goodrich C. White Professor of American Studies, who dedicated his career to exploring issues of identity, died Oct. 21 after a long battle with cancer.
Byrd, who led Emory's Department of African American Studies for nearly a decade, recognized Johnson's far-reaching contributions as a civil rights activist and man of letters, said Ingrid Saunders Jones, senior vice president of global community connections for The Coca-Cola Company. Coca-Cola sponsored the medals ceremony as a founding corporate sponsor of the Johnson Institute.
Byrd "put a shining light on Johnson's words — words that represent a journey of a people, words that continue to inspire us," Jones said.
Interdisciplinary scholarship
"This is an important event in the cultural and intellectual life of Emory and the city of Atlanta," said Provost Earl Lewis, who co-hosted the Johnson Medal Ceremony at The Carter Center with Spelman College Professor Beverly Guy-Sheftall.
"Like Johnson, these honorees have had an enduring impact on the nation and, indeed, the world," said Calinda Lee '02PhD, the Johnson Institute's associate director for programs and development. "By taking the time to acknowledge their efforts, we applaud their achievements and, in many cases, introduce their good work to members of our community."   
In accepting his award, Human Rights medalist An-Na'im said: "This is such an amazing privilege, honor and blessing."
A native of Sudan, the Emory professor is an internationally recognized scholar of Islam and human rights, and human rights in cross-cultural perspectives. At Emory Law, An-Na'im has focused on cultural transformation and human rights in Africa and the application of Islamic family law throughout the world.
Clayton, who received the Journalism medal, began her television career in 1967 and was the first African American in the South to have her own television show, "The Xernona Clayton Show." A civil rights activist, she worked closely with Martin Luther King Jr., and traveled extensively with his wife, Coretta Scott King. As a former vice president for urban affairs at Turner Broadcasting System, she was one of the highest-ranking female employees at the company.
In receiving her medal, Clayton quipped: "Last month, the Atlanta City Council dedicated a street in my name, and tonight I get this. I can't wait for December."
Among the other medalists, Baseball Hall of Famer Aaron, one of the greatest home-run hitters of all time, received the Johnson Medal for Humanitarian Service. Recovering from knee surgery, Aaron could not attend the ceremony.
Since his retirement, Aaron, who serves on the Board of Governors for the Boys & Girls Clubs of America, has given back to society more than three decades. His Chasing the Dream Foundation provides grants to children ages 9 to 12 for advanced study in music, art, writing, dance and sports. The foundation recently established a dozen $100,000 endowed scholarships at universities across the country.
Farris, the eldest of King's siblings, received the medal for Humanitarian Service. The former vice chair and treasurer of the Martin Luther King Jr. Center for Nonviolent Social Change, Farris has produced five books on the life of her brother, along with many scholarly publications. An acclaimed speaker, she is a legacy member and trustee at Ebenezer Baptist Church, and holds lifetime memberships with the NAACP, SCLC and YWCA.
Literature medalist Soyinka is Emory Woodruff Professor of the Arts emeritus and currently professor emeritus in comparative literature at Obafemi Awolowo University in Nigeria and President's Professor at Loyola Marymount University in Los Angeles. Born in western Nigeria, Soyinka founded two theater companies in his homeland after receiving a Rockefeller Foundation Grant in 1960. He has published more than 30 works, and has won numerous civic and professional awards.
Johnson's presence permeated the evening, as speakers representing Emory and the city Atlanta read selections from his books, "Along This Way" and "Negro Americans, What Now?"
The ceremony concluded with members of the audience — some colleagues, some strangers — joining hands and singing the civil rights anthem "We Shall Overcome."    
Due to scheduling conflicts, the Johnson Institute canceled a Nov. 9 campus panel discussion featuring the medalists.